Europe's Weak Because It's Uncompetitive
The new European competitiveness reports show that an inflexible labor market and overcautious banks are the EU economy's biggest problems.
by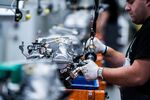 In discussions of Europe's shaky economic recovery, monetary policy has taken center stage: It's as if money printing to spur demand can solve Europe's problems. According to newly-released European Union competitiveness reports, however, the real problem is mainly twofold: labor costs, which have been growing faster than productivity, and underinvestment, caused in part by the failure of all that new money to filter down into the non-financial economy.
The European Commission's 2014 European Competitiveness Report and the separate Member States Competitiveness Report center on industry. Europe has a higher share of global manufacturing value added than China or the U.S., and industrial exports are particularly important to its economy. According to the EC, over the next 10 years 90 percent of new demand will be generated outside of Europe, and it is up to the EU to make sure its companies win the right to satisfy some of that demand.
Export-oriented growth, however, runs into a number of problems, and they are not necessarily the most talked-about ones.
Europe's high energy costs, for example, are not particularly important for the overall picture: They make up just 3 percent of manufacturing costs compared with 2.9 percent in the U.S. and 5.9 percent in China. That's because European firms have dramatically improved their energy efficiency in recent years. The European economy's energy intensity -- the amount of energy consumed per dollar of output -- dropped 24 percent between 1995 and 2012, and that's not just because of deindustrialization. In manufacturing, energy intensity went down 21 percent between 1995 and 2009. Because of that increased efficiency, costly policies aimed at increasing the use of sustainable energy haven't rendered European firms uncompetitive.
Labor costs are a bigger problem. In recent years, Europe has seen a steady increase in rewards to labor relative to productivity. Unit labor cost, the ratio of compensation to productivity, has been rising in all industries except pharma. Here's how it increased every year, on average, between 2007 and 2012: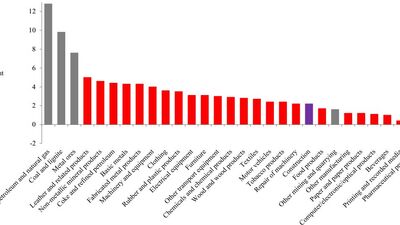 In the US, labor productivity in manufacturing has been growing faster, on average by 2.9 percent year-on-year between 2001 and 2014, compared with 2.5 percent for the EU. In fact, in recent years Europpean productivity has almost stopped growing, while in the U.S. it kept going up at close to average historical rates.
Because of the stagnating labor productivity, Europe's low inflation -- and in some cases deflation -- is the "bad" kind: Prices are not going down because manufacturing gets cheaper but because there is not enough demand.

One reason for Europe's productivity lag s that its labor markets are less flexible than in the U.S. Despite high unemployment in most European countries since the 2008 financial crisis, firms have been "hoarding labor" because people are too costly to fire and labor unions are powerful.
Another reason is that European companies are consistently underinvesting. Investment by non-financial corporations is now 15 percent lower than before the 2008 crisis, though it grew 1 percent in 2013, finally reversing a downward trend. Europe's share of global investment in manufacturing dropped from 40 percent in 2005 to 25 percent in 2013, a steeper drop than that seen in the U.S. (minus 19 percent) and even Japan (minus 35 percent).
That is a direct result of reduced access to funding. "The reduction of the marginal lending interest rate by the ECB since 2012 does not seem to have translated totally into reductions in interest rates for non-financial corporations, highlighting the break of the theoretical link between interest rate policy and borrowing in the real economy," the European Commission remarked: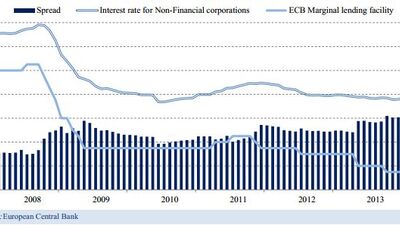 Though there has been a certain loosening of purse strings since last year, the ECB's money is still having trouble trickling down to manufacturers because overregulated banks are being extra cautious. Bankers such as HSBC chairman Douglas Flint have warned about this danger lately, but regulators have largely waved off these complaints: The banking industry's reputation is such that nobody's going to take pity on it and lighten the burden of supervision.
The labor and funding problems are not universal across the EU. A number of countries -- the European Commission names Denmark, Germany, Ireland, the Netherlands, Spain, Poland, the Czech Republic -- are increasing their competitiveness and combating structural problems with relative success. On the other hands, Belgium, France, Italy, Austria, Finland and the U.K. are in decline, according to the EC.
In the end, restarting Europe's economic growth depends more on good governance, regulation and ability to solve structural problems than on increasing money supply, which can only mask the issues that sap countries' competitiveness.
This column does not necessarily reflect the opinion of Bloomberg View's editorial board or Bloomberg LP, its owners and investors.
To contact the author on this story:
Leonid Bershidsky at lbershidsky@bloomberg.net
Before it's here, it's on the Bloomberg Terminal.
LEARN MORE