view
Who Wins a Georgia Senate Run-Off?
Everyone expects a run-off in the Louisiana Senate race. Georgia could have one too. 
by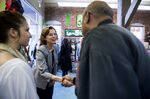 Consider this scenario: A new Congress convenes next Jan. 5, and Republicans have a one-seat majority in the U.S. Senate. The next day, however, the Republican advantage is wiped out. How?
Georgia. State law there requires a run-off if no candidate receives 50 percent of the vote on Nov. 4. The Senate race, for a seat held by retiring Republican Saxby Chambliss, is between Democrat Michelle Nunn and Republican David Perdue. Polls show a tight race. In addition to Nunn and Perdue, the ballot will feature Libertarian candidate Amanda Swafford, so the top vote-getter could end up shy of 50 percent.
In the event a run-off is required, it would take place on Jan. 6, one day after the new Congress is slated to convene.
Louisiana also requires a 50 percent victory threshold, and operatives in both parties expect a run-off there on Dec. 6, with incumbent Democrat Mary Landrieu and Republican challenger Bill Cassidy the probable contestants. Georgia is considered the Democrats' best chance to win a seat currently held by a Republican. A victory there would mitigate Democratic losses sure to accrue elsewhere on the Senate map. If the Republicans win a net of six seats, they will have a Senate majority next year.
Senate run-offs are rare, but not unknown, in Georgia. In 1992 incumbent Democratic Senator Wyche Fowler fell just short of a majority on Election Day in November. The run-off was held three weeks later. Fowler was defeated by Republican Paul Coverdell.
To contact the author on this story:
Albert R Hunt at ahunt1@bloomberg.net
To contact the editor on this story:
Frank Wilkinson at fwilkinson1@bloomberg.net
Before it's here, it's on the Bloomberg Terminal.
LEARN MORE