Trade of the Day: Ditch Your E-Cigarette for a Magic Mushroom
The Trade of the Day is to beat your enslavement to the cigarettes with some magic mushrooms; psilocybin is twice as effective as other ways of ending addiction to the deadly weed. 
by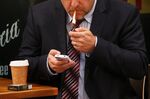 Extinguish that e-cigarette. Rip off that nicotine patch. Spit out the nicotine chewing gum. It turns out thatmagic mushrooms are the way to kick that deadly smoking habit.