view
Spain Should Beware Scottish Precedent
Following the money suggests Catalonia is the most likely candidate to attempt to follow Scotland down the path to independence. 
by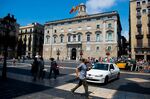 With the outcome of Scotland's Sept. 18 referendum on independence hanging in the balance, other regions in Europe are getting excited at the prospect of a precedent for secession. Investors, meantime, are wondering who might go next: Catalonia is emerging as the most likely candidate.
QuickTake Scottish Independence
A demonstration in Barcelona today may see as many as 1.5 million supporters of Catalan independence protesting that the region should be allowed to hold a referendum on the question in November. Spanish Prime Minister Mariano Rajoy has said the nation's constitutional court will rule out a vote; in the wake of Scotland's surprising drift toward self-rule, though, investors aren't so sure Spain won't split.
Unlike Scotland, Catalonia has bonds of its own available to gauge investor sentiment -- 42 of them, according to Bloomberg data, worth a total of a bit more than 11 billion euros ($14 billion), and a chunky 3.7 billion euros of them are scheduled for repayment next year. Catalonia's bonds have taken a hit this week: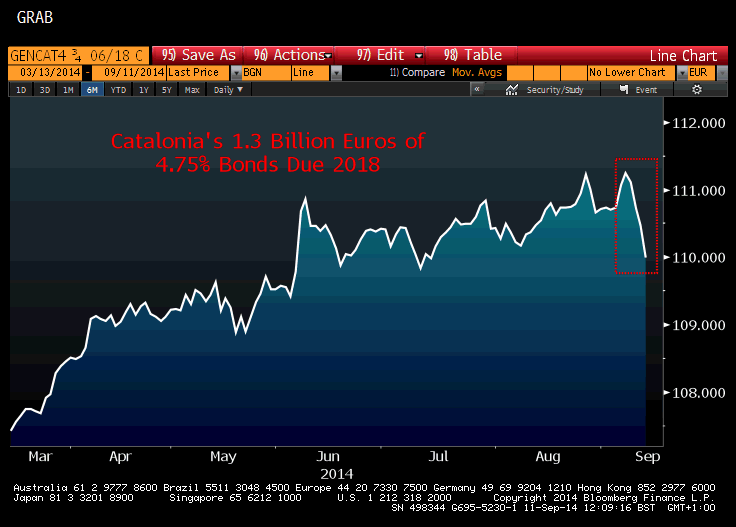 Spanish government debt has been similarly whacked. The nation's 10-year yield jumped to (a still absurdly low for an economy in Spain's position) 2.30 percent, from 2.04 percent at the end of last week.
Catalonia's Regional President Artur Mas said today that Spain's European neighbors will eventually urge the government in Madrid to negotiate with its dissident region. "The reasons why the central government is blocking the vote are political, not legal," he told a press conference in Barcelona. The momentum in Scotland for freedom has taken both politicians and investors by surprise and, in Spain, the former would do well to heed the moves being made by the latter. Rajoy and the central government need to figure out how to win over an increasingly angry and frustrated slice of the country, because just saying no isn't working.
To contact the author on this story:
Mark Gilbert at magilbert@bloomberg.net
Before it's here, it's on the Bloomberg Terminal.
LEARN MORE