Scottish Independence Is a Matter of Identity
 It seems entirely possible that come Sept. 18, the world will see an independent Scotland for the first time in centuries.
by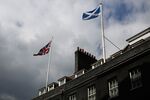 About a week ago, I asked my friends on Facebook whether there was really any chance that Scotland would leave the U.K. At that point, the "yes" vote was running solidly behind, and it seemed likely that this would follow the path of such referenda in Quebec and elsewhere: close, perhaps, but no cigar. Whatever the downsides of union, Scotland is not South Sudan; I expected that voters would ultimately look at all the complications of departure and decide to stay.