Congress Can Act Alone Against Islamic State
The system works best when both branches are engaged.
by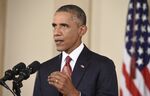 One of the debates arising from President Barack Obama's speech last night and his decision to conduct airstrikes in Iraq and Syria has been about legality and presidential authority. Generally, I recommend reading Andrew Rudalevige.
As for my views:
On matters of constitutional division of powers, I generally follow the Neustadtian doctrine that ours is a government of separated institutions sharing powers. So rather than trying to figure out the exact dividing line between explicit grants to Congress (declaring war, appropriations) and the presidency (commander in chief, foreign policy generally), I prefer to think of all of it as a shared power.

As such, the problem usually isn't presidential usurpation; it's congressional abdication.

That is, if Congress wants to assert itself, as it did in ending the war in Vietnam or prohibiting U.S. involvement in Nicaragua through the Boland amendment , then the legislative branch will have a larger role. Similarly, Congress can always vote to authorize (and perhaps limit) military action, whether or not it is asked to do so by the president.

Meanwhile, if Congress is unable or unwilling to involve itself, then presidents will move (or not move) without it.
The political system works best when both branches get involved. That Congress abdicates its responsibility is bad news, but not the president's fault.
Nevertheless, it's usually wise for presidents to build large coalitions, including in the Congress, for any policy. Certainly including military action.
In normal times, with a functioning Congress, inability to get congressional support should be a huge red flag to presidents that their policy (whatever the legality or expert endorsement) may have serious flaws. One of the reasons to attempt to build a large domestic coalition is that the process may produce information for the president.
Unfortunately, these are not normal times. If all Obama would find out by insisting on a congressional vote is that (most) Republicans refuse to vote for anything he wants, then a vote would be a waste of his time.

The flip side of that is that Republicans who reflexively oppose the president on anything -- either because they are terrified of being called a RINO or because they are following a strategy of never giving the president any bipartisan policy successes -- are forfeiting an opportunity for policy influence.

Note, by the way, that presidents who sell their policies through falsehood (think Vietnam or George W. Bush's Iraq War) only rob themselves of the information that could be gained through coalition-building.

Backing up a bit, there are all kinds of sensible reasons why individual members of Congress prefer abdication. The incentives they face rarely encourage many of them to get involved, even when both parties and the institution are generally functioning well.
Which doesn't mean that activists outside Congress should give up on pushing them to act. It may be futile, but the system does work best when both branches are fully engaged.
This column does not necessarily reflect the opinion of Bloomberg View's editorial board or Bloomberg LP, its owners and investors.
To contact the author on this story:
Jonathan Bernstein at jbernstein62@bloomberg.net
To contact the editor on this story:
Max Berley at mberley@bloomberg.net
Before it's here, it's on the Bloomberg Terminal.
LEARN MORE