Where's the Indian Alibaba?
India has no e-commerce giant that can rival China's Alibaba yet, but the sector is set for a huge takeoff.
by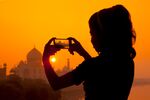 China's Alibaba is the world's largest e-commerce platform. In 2013, its online sales totaled $248 billion, more than eBay and Amazon combined. Unsurprisingly, it's also set to become the world's most valuable e-commerce company. The firm began a roadshow in the U.S. this week ahead of its highly anticipated initial public offering, seeking a valuation of as much as $162.7 billion. That would make the company larger than 95 percent of the Standard & Poor's 500 Index.