Penn State's Football Worship Is Bowl Eligible
The higher purpose of sanctioning Penn State's program went far beyond due punishment for a horrible crime. It was supposed to completely change a culture all too ready to look the other way. 
by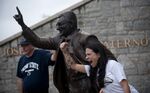 There's revelry in State College, Pennsylvania, once again. But it's nothing to celebrate.