Following the Money on Scottish Independence

Mark Gilbert is a Bloomberg View columnist and writes editorials on economics, finance and politics. He was London bureau chief for Bloomberg News and is the author of "Complicit: How Greed and Collusion Made the Credit Crisis Unstoppable."
Read More.
I'm a big believer in the wisdom of crowds and in following the money to parse the likely outcome of any situation where there's a profit to be made from correct anticipations. When it comes to Scotland's Sept. 18 vote on whether to declare independence, though, the data is tricky.
QuickTake Scottish Independence
The performance of the British pound, down to a nine-month low against the dollar, suggests Scotland will go. The currency weakened to as low as $1.6052 today, down from stronger than $1.66 at the beginning of the month: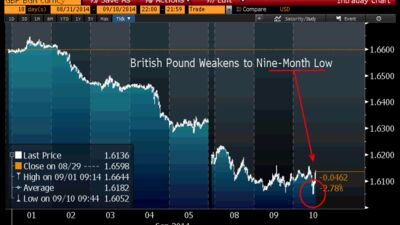 A potential loss of investor confidence in the U.K., the likelihood that the chaos and confusion that untangling Scotland from the rest of the country will stay the Bank of England's hand on interest rates, and a simple dislike of uncertainty are all motivations to speculate on a Scottish "yes" by selling the pound.
A Credit Suisse index of 20 companies that stand to suffer in the event of Scottish emancipation, however, suggests equity investors are relatively relaxed about the risks, with the index trading bang in line with its one-year average value. Scottish-headquartered companies in the index include insurer Standard Life (which is threatening to move some of its business to the rump U.K. if Scotland splits), investment firm Aberdeen Asset Management, and transport company Stagecoach Group. So either investors don't believe the relocation threats; don't think it would hurt the companies involved; or are pretty sanguine about Scotland staying in the union: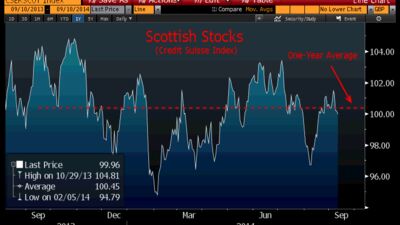 Unfortunately, Scotland has no bonds (or currency) of its own by which we might more clearly gauge the attitude of investors to the outlook for the country itself. Perhaps, then, the best guide is to be found among the bookmakers, still unanimous in backingthe view that Scotland will reject autonomy, despite the recent YouGov poll that put the Yes campaign ahead for the first time. Betting five pounds on Scotland saying "no" will win you just two pounds plus your stake returned; a "yes" vote offers a potential profit of 9.38 pounds.
So on the basis that the house never loses, you'd back Scotland to stay in the union -- and you might also be tempted to buy pounds.
This column does not necessarily reflect the opinion of Bloomberg View's editorial board or Bloomberg LP, its owners and investors.
To contact the author on this story:
Mark Gilbert at magilbert@bloomberg.net
To contact the editor on this story:
Marc Champion at mchampion7@bloomberg.net