Following the Money on Scottish Independence
Following the money offers mixed signals on the chances of Scotland voting for independence. 
by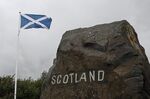 I'm a big believer in the wisdom of crowds and in following the money to parse the likely outcome of any situation where there's a profit to be made from correct anticipations. When it comes to Scotland's Sept. 18 vote on whether to declare independence, though, the data is tricky.