Fighting the Fed Both Ways
Even in this age of forward guidance, divining what central banks will do next remains an art rather than a science. 
by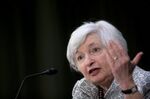 When trying to foretell the next twists in Federal Reserve monetary policy, it seems that futures traders get too jittery about how fast and high interest rates might go, while Fed watchers are too relaxed about the likelihood of higher borrowing costs.
Jens Christensen and Simon Kwan at the Federal Reserve Bank of San Francisco consolidated the monthly Blue Chip Financial Forecast survey of about 50 economists with the Fed's monthly survey of the banks it trades directly with, to derive public expectations for the path of interest rates.
In a paper published this week, they contrast the median survey expectations for a 0.75 percent Fed rate by the end of next year with the Fed's own anticipation of 1 percent in its Summary of Economic Projections. By the end of 2016, the public expectation was for a 2.13 percent rate, versus 2.5 percent in the Fed summary:
Evidence based on surveys, market expectations, and model estimates show that the public seems to expect a more accommodative policy than Federal Open Market Committee participants. The public also may be less uncertain about these forecasts than policymakers.
The futures market, by contrast, tends to surge higher at the first sign of Fed tightening, and overshoots the likely peak for interest rates: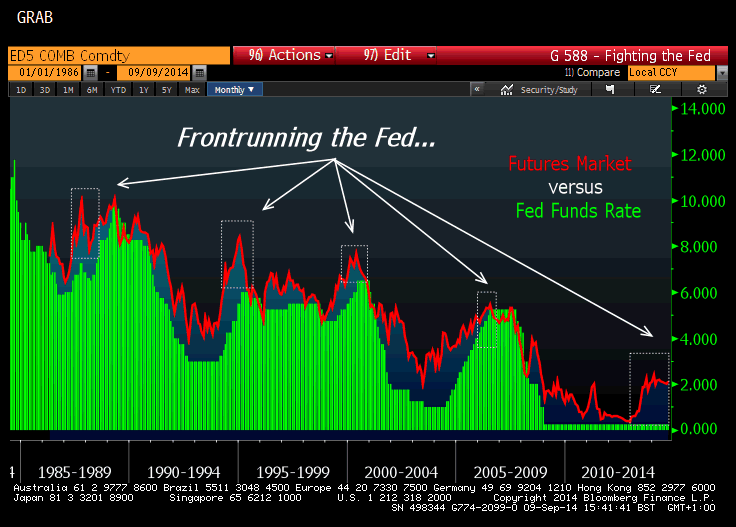 The chart describes what analysts at Credit Suisse described in a research report last month as "the trend for the bond market to overreact to the first rate rise by pricing in too much in the way of rate rises once the tightening cycle begins." And, in the current environment, the futures rate has soared even without the Fed pulling the trigger.
Prediction is very difficult, especially if it's about the future, the physicist Niels Bohr taught us. Even in this age of forward guidance, divining what central banks will do next remains an art rather than a science.
This column does not necessarily reflect the opinion of Bloomberg View's editorial board or Bloomberg LP, its owners and investors.
To contact the author on this story:
Mark Gilbert at magilbert@bloomberg.net
To contact the editor on this story:
Mark Whitehouse at mwhitehouse1@bloomberg.net
Before it's here, it's on the Bloomberg Terminal.
LEARN MORE