Family Dollar Has More Deals Than It Needs
The best way to deal with antitrust risk on your merger is to have a backup merger. 
by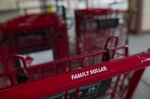 Here is Dollar General's hostile tender offer for Family Dollar. Like a lot of hostile tender offers these days, it is not a real tender offer. You can try to give Dollar General your shares, but it's not actually going to buy them. The tender is conditioned on a bunch of other things, including Family Dollar waiving its poison pill and entering into a friendly merger agreement with Dollar General. So there's no direct binding offer that shareholders can accept: Dollar General still needs the cooperation of Family Dollar's board to get its deal done.
I have in the past been a bit mystified by these fake tender offers, 1 which usually have only symbolic force. A document saying "Offer to Purchase for Cash" will focus the minds of the target's shareholders, sure, and so put some pressure on the target's board. But this seems like a squishy benefit.
Here, though, there is a very real and tangible and simple benefit. Here's Dollar General's press release:
Additionally, we now can begin the antitrust review process and will have an opportunity to present our position directly to the FTC. As we previously have stated, we are confident in the results of our antitrust analysis, and we look forward to a constructive dialogue with the FTC.

The analysis of the Family Dollar situation is pretty simple. It has a merger agreement with Dollar Tree, for $74.50 a share in cash and stock. It has an offer from Dollar General, for $80 a share in cash. $80 is more than $74.50. But it needs antitrust approval from the Federal Trade Commission to consummate either deal. It is working to get that approval for the Tree deal, 2 and it seems to be working hard, but everyone assumes that it will ultimately go through.
But Family is also telling anyone who will listen that the General deal will be a much harder sell to the FTC, because General is both a bigger and closer competitor than Tree. So Family argues that Tree's $74.50 offer is worth more than General's $80 because it is much more likely to actually close. General disagrees. 3
This is a real problem. It was a problem when Family rejected General's offer of $80, and when it rejected its prior offer of $78.50, even though both of them were higher than the $74.50 it had from Tree. It was even arguably a problem before it signed the deal with Tree: When Family was an independent company, with no merger agreement at all, it could have negotiated with Tree, or with the better funded and more aggressive General. It chose Tree, for reasons that are disputed, but one might be that Tree raised less antitrust uncertainty than General.
But now that problem has been solved. Family has both a lower and safer offer from Tree, and a higher and riskier offer from General. And it doesn't have to choose between them. The FTC will review both of them. Then the FTC will announce its conclusions. Then shareholders will decide. If the FTC approves both deals, then $80 is more than $74.50 and that is that. If the FTC rejects the General deal (and allows the Tree one), then $80 is out of reach and $74.50 is more than nothing 4 and that is that. Either way the uncertainty is resolved before shareholders have to decide.
Family Dollar, intentionally or otherwise, seems to have engineered a perfect result. It's basically bought a put option on itself from Tree, with a strike price of $74.50 a share and a premium of $2.68 per share 5 -- that is, the $305 million breakup fee payable to Tree if it ends up with General. But it's just an option: It only has to sell to Tree at $74.50 if an $80 deal with General doesn't go through. It's not precluded from doing that $80 deal.
This oversimplifies, of course. The big risk is that Family shareholders might have to vote on the Tree deal before they find out if the General offer will pass antitrust muster. The FTC has been considering the Tree deal for weeks and has just asked for more information. It's had no time to consider the General deal, though of course from its work on the Tree deal it should be familiar with the industry and Family's role in it. The FTC's timeline is uncertain, but there's a good chance that it will approve the Tree deal weeks before it makes a decision on the General deal. Obviously it would be more shareholder-friendly for the FTC to decide on both deals at the same time, so shareholders can make an apples-to-apples decision with full information, but I doubt the FTC cares much about that. 6
But this only matters if Family then puts the Tree merger to a shareholder vote in a hurry, without waiting for the FTC's answer on General. 7 That would be ... sort of nuts, right? 8 Family's stock is currently trading in the mid-$78s. Assuming it can stay there -- i.e. without negative news from the FTC or otherwise -- it's hard to imagine shareholders voting for a $74.50 deal on a $78.50 stock. And General's tender offer, though not legally binding, has a shadow-voting effect: If 60 percent of shares tender, then that presumably means that at least 60 percent of shares will be voted against the Tree deal.
So just going to a vote would basically force shareholders to reject the Tree deal without having the General deal in hand. So you'd think Family wouldn't want to force the question early, though it's perhaps a more complicated question whether Tree would want to. The merger agreement requires Family to hold the vote "as soon as reasonably practicable," though there's some wiggle room there, and each side has the right to delay the vote, once, by up to 45 days if it doesn't think the deal has enough support. 9 That gives Family a decent chance of keeping its Tree option open while General works through the antitrust issues.
The other oversimplification in the above is that it assumes that Family just wants to get the best possible deal for shareholders. But the General camp, and Carl Icahn, think otherwise. They argue that Family prefers to sell to Tree, not because of antitrust uncertainty around General, but because Family chief executive Howard Levine will probably get to keep his job with Tree but not with General.

I don't especially believe that that's what motivates a public company board in a contested takeover, but I guess you never know. If you do believe that, then there are some shareholder-unfriendly things that Family could do to make the Tree deal more likely. One of those would be to rush the vote, forcing shareholders to decide between the sure-thing Tree deal and the better-but-riskier General deal, though this only works if it thinks it can persuade shareholders of General's risks.
Putting a thumb on the antitrust scales could also favor Tree, and you see a little of that already: Family's rejection of General's bid goes into perhaps unnecessary detail about the antitrust problems of a Family/General deal. And I suppose that Family could argue to the FTC that such a deal shouldn't be allowed, though the FTC won't necessarily agree. But actively trying to prevent a better deal for shareholders does not exactly seem, you know, shareholder friendly.
Or of course Tree can raise its offer. That would be straightforwardly good for Family shareholders, but you do rather get the sense that if it was going to do that it would have done it already. General has been outbidding Tree for weeks now, and Tree shows no signs of coming up with any more cash.
In general, though, this situation looks great for everyone. General gets to buy Family, which is what it wants, if it can get through antitrust approval, which it thinks it can. Family gets to sell to the highest bidder, and even gets a backup bidder if antitrust doesn't work out with General. Neither General nor Family needs to bear the full antitrust risk of their combination. And Tree, meanwhile, will either end up buying Family at below its market value (if General can't get through antitrust), or will get a $305 million breakup fee and, probably, the opportunity to buy divested stores from Combined Family Dollar General for cheap. Everyone wins.
What's especially nice is that if Family had done something more conventionally friendly -- like, for instance, agree to negotiate with General -- it couldn't have achieved this result. If it had just agreed to a deal with General, it would lose the certainty of Tree as a stalking horse. The best way for Family Dollar to do a deal with Dollar General may have been to keep ignoring Dollar General's entreaties.
To contact the author on this story:
Matthew S Levine at mlevine51@bloomberg.net
Before it's here, it's on the Bloomberg Terminal.
LEARN MORE