Apple: From Tech Trailblazer to Payments Middleman

Leonid Bershidsky is a Bloomberg View columnist. He was the founding editor of the Russian business daily Vedomosti and founded the opinion website Slon.ru.
Read More.
With typical immodesty, Apple presented yesterday its new payment system, Apple Pay, as if it had invented near-field communication -- the more-than-a-decade-old technology that is already widely used for contactless payments.
The company's partners, banks and credit-card companies, played along with Apple's hype, because they support every player that puts effort into popularizing a technology whose use they are struggling to expand. Essentially, however, Apple is just a middleman and will have a role only so long as existing payments industry players need help spurring consumers to adopt contactless payment.
The "amazing technology" Apple Chief Executive Officer Tim Cook demonstrated as an alternative to using credit cards with a magnetic strip -- wave your phone and, hey presto, you've paid -- is the same as MasterCard's PayPass or Visa's PayWave. These use near-field-enabled credit cards, issued by a multitude of banks. MasterCard also has a pilot program with some banks that involves the use of mobile phones. Visa, too, is introducing contactless mobile payments with partner banks. Needless to say, the phones involved mostly run Android, because Apple avoided using the technology in its handsets before yesterday's debut of the iPhone 6.
These efforts will not stop with the introduction of Apple Pay, nor will Korean tech companies and banks give up on their own contactless payment solutions -- this form of payment is already the norm in South Korea and Japan.
Still, the major credit-card companies and a number of U.S. banks obligingly praised the project for the Apple news release, because the Cupertino, California, company is bringing its enormous, loyal user base to a fragmented market that needs a big marketing effort to develop. Paying with one's mobile phone, or even with a wave of a plastic card, means changing long-established habits, and people don't necessarily see any reason to do it. A Federal Reserve survey in March found that 2 percent of smartphone users had already paid in a store using their phones, 21 percent more said that they were likely to do so if they had the opportunity, and 44 percent said they were "very unlikely" to.
The adoption rate of contactless payments by retailers, who don't see much new business resulting from an investment in the new hardware needed for contactless payments, has therefore been low. Here's a screenshot from MasterCard's application showing the location of PayPass-accepting merchants in downtown Berlin, which is chock-full of trendy boutiques and touristy restaurants: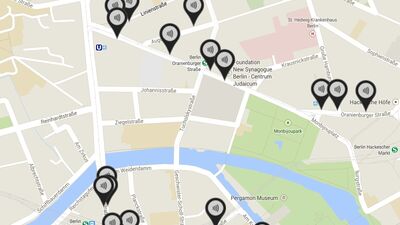 Credit-card companies, banks and big retailers need help in persuading the technology's doubters, and that's where the popular appeal and huge marketing budgets of tech giants such as Apple can come in handy. Many of the same institutions that now back Apple Pay -- notably, MasterCard, Citigroup, Macy's, Subway, Toys "R" Us and Walgreens -- were also behind the 2011 debut of Google Wallet: Check out this joint news release to see if it reminds you of Apple's 2014 one.
With Softcard, PayPal's One Touch mobile payment system, Google Wallet, startups such as Square and Stripe, credit-card companies and banks already in the market, this is a crowded field. "It's an entire industry built on charging small, infinitesimal tolls," Jonathan Wall, the founding engineer of Google Wallet, told FastCompany magazine. "Everyone says, 'Well, if I can just use my current position to get into the role of erecting my own toll booth, wouldn't that be a great business?'"

Once the industry matures, however, it will grow more difficult to erect extra toll booths, and the traditional chain that includes a bank, a credit-card company and a retailer will not need middlemen to push the technology's adoption.
All of this suggests that Apple may play the same role in the payments market as it did in the music business: The iTunes store legitimized music downloads and saved foundering record labels, but the advent of streaming audio proved that it was a dead-end business model. Whether Apple can stick around in finance depends on its willingness to be more than an intermediary: It may have to become a bank or a credit-card company itself, if it wants to be in this market for the long haul.
This column does not necessarily reflect the opinion of Bloomberg View's editorial board or Bloomberg LP, its owners and investors.
To contact the author on this story:
Leonid Bershidsky at lbershidsky@bloomberg.net
To contact the editor on this story:
Marc Champion at mchampion7@bloomberg.net