Trade of the Day: Scotland Blazes the Trail for Emancipation

Mark Gilbert is a Bloomberg View columnist and writes editorials on economics, finance and politics. He was London bureau chief for Bloomberg News and is the author of "Complicit: How Greed and Collusion Made the Credit Crisis Unstoppable."
Read More.
Scotland's Sept. 18 referendum on whether to become an independent nationwill be a close call, according to recent opinion polls, with the British pound slumping on speculation voters will favor a break-up of the United Kingdom.
A thousand miles away,separatists in Catalonia are taking heart from the Scottish emancipation efforts. The day after the Scottish vote, the Spanish region's parliament is scheduled to vote on whether to call for an independence referendum of its own.
So the Trade of the Day is to steer clear of investments where the locals are demanding freedom; who knows, even Quebec might rediscover an appetite for emancipation.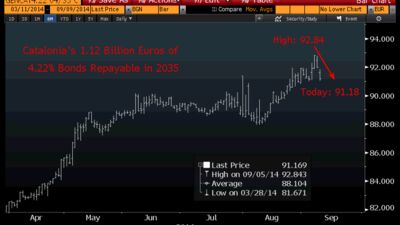 This column does not necessarily reflect the opinion of Bloomberg View's editorial board or Bloomberg LP, its owners and investors.
To contact the author on this story:
Mark Gilbert at magilbert@bloomberg.net
To contact the editor on this story:
James Greiff at jgreiff@bloomberg.net