The Reasons Bankers Weren't Busted
There is ample evidence of wrongdoing in the run-up to and during the financial crisis, though no senior bankers have been charged with committing a crime.
by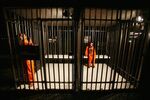 "There Were No Convictions of Bankers for Good Reason" is theheadline of a postby Mark F. Pomerantz, a lawyer and retired partner at Paul, Weiss, Rifkind, Wharton & Garrison in the New York Times's Room for Debate discussion:
The reason that senior bankers did not face charges, even though investigators interviewed countless witnesses and pored over truckloads of emails and other documents for many years, is that the executives running companies like Bank of America, Citigroup and JP Morgan were not engaged in criminal acts.
At least that is why according to Pomerantz. It should surprise no one that a lawyer who spent much of his career representing financial institutions and their executives wouldn't see any prosecutable crimes. Fortunately, it is easily refutable, which is our task for today and tomorrow.
Pomerantz's claim is, along with other like it, what we should expect from corporate management and its hired apologists. But this exercise in cynical spin also does significant damage to respect for the rule of law and undermines respect for legal institutions and the legitimacy of elected officials.
I have been following the absence of legal prosecutions since 2008, and have posted on that subject more than 500 times. But this isn't the obsession of one lone crank (i.e., me). Many others in banking, law enforcement and government who aren't on the payroll of banks have reviewed the events of the financial crisis and have reached the same conclusion -- that the law was broken repeatedly by bankers.
Start with the Department of Justice's own Audit Division. The Office of the Inspector General issued a scathing report on the department's prosecutorial incompetence. It is difficult to give a fair read of the 57-page summary and not come away with an understanding of the serious criminality among bankers and the professionals who worked for them.
Other observers, such as Bill Black, have also detailed many criminal acts committed by bankers during the 2007-09 financial crisis. Black is a respected professor of economics and law. He perhaps is best known for exposing congressional ethical lapses and corruption during the savings and loan crisis, and is the author of "The Best Way to Rob a Bank is to Own One: How Corporate Executives and Politicians Looted the S&L Industry."
Josh Rosner, a banking analyst for many years, andco-author (with the New York Times's Gretchen Morgenson) of "Reckless Endangerment: How Outsized Ambition, Greed, and Corruption Created the Worst Financial Crisis of Our Time," also looked at the issue of law-breaking. He put forth a scathing analysis focused exclusively on what he saw as the wrongdoing and regulatory violations by JPMorgan Chase & Co. (See thisreport).
At the state level, we find all manner of political interference with prosecutions. Consider Florida. When the state's newly elected attorney general took office, she immediately stopped her predecessor's "Fraudclosure" investigations into banks' hyperfast foreclosures mills. As it turned out, the banks and law firms involved in these investigations werelarge campaign contributors to the new AG. Despite the prior attorney general's overwhelming evidence of law-breaking, no prosecutions were brought. To my mind, this was proof of corruption and crony capitalism, not proof of innocence.
Political access and lobbying go part way toward explaining the absence of prosecutions and, therefore, the lack of convictions. To understand why there were no convictions of senior bankers, you need to understand a bit of criminal law in the U.S. The American form of jurisprudence requires a criminal indictment to bring someone to trial. No indictment, no trial, no conviction. Where bankers and their lawyers have been so successful is stopping prosecutions before they begin. You don't get to the conviction part if prosecutors don't bring indictments.
As we have repeatedly shown, Treasury Department officials, including former Treasury Secretary Timothy Geithner, had convinced prosecutors in the Justice Department of the dangers of prosecuting banks and bankers for the economy. This showed up in the news coverage over the years, and is still going on. Just consider this recent Bloomberg News article with the headline "Criminal Charges Against Banks Risk Sparking Crisis.''
So what crimes could we imagine? How about fraudulent mortgage underwriting; robo-signing and foreclosure perjury; falsifying Libor rates; manipulating gold and other metal prices; money laundering for drug kingpins and terrorists; and participating in Ponzi schemes. This is hardly an all-inclusive list and I could certainly make it longer.
This column does not necessarily reflect the opinion of Bloomberg View's editorial board or Bloomberg LP, its owners and investors.