Roger Goodell Blew the Call on Ray Rice
The NFL commissioner has confessed to a terrible mistake. I hope that's all it was.  
by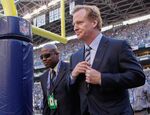 The National Football League, in explaining why it didn't take tougher action before against Baltimore Ravens running back Ray Rice, has said that it never saw the now-viral video of Rice striking his future wife Janay in the elevator.