view
Obama Destroys His Own Immigration Argument
Unilateral action on immigration depended on the notion of an emergency. Delaying the action demolishes that argument.
by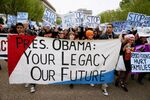 Joshua Green, a shrewd political analyst at Bloomberg Businessweek, says that President Obama is "right to punt on immigration reform now and take it up after the election." The administration had led everyone to believe that Obama was going to act before the election by issuing an executive order letting millions of illegal immigrants work legally in the U.S.
Green makes three arguments: Acting now would produce a backlash in many states with Senate races, it would make the president's position on immigration look unpopular, and the run-up to the 2016 election is a more auspicious time to raise the issue.
QuickTake Swerving Path to Citizenship
All of these are of course political considerations, and there is nothing wrong with taking them into account in the normal course of politics. The trouble is that what Obama was considering -- and apparently still is considering -- is anything but normal. Washington, D.C., has been debating what to do about immigration for years. Until recently, nobody thought it would be proper for the president to legalize millions of illegal immigrants by himself. As recently as 2011, Obama thought a more modest action -- offering legal status to people who came here illegally as minors -- was beyond his legitimate power.
If this extraordinary action were justified at all, it would have to be by reference to an emergency. Perhaps that's why Obama, in June 30 remarks devoted to justifying unilateral action, said that Congress's refusal to pass the legislation he sought had created a "humanitarian crisis" at the border. But the argument that legalization is a response to that crisis can't really be made with a straight face. Nor is the presence of illegal immigrants in the U.S. an emergency that demands action this instant, as it has been going on for years.
No, the administration was considering this step purely to advance its policy and political goals, and now it's delaying it for the same reasons. What the administration is suggesting is that we can't wait for Congress to act -- but we can wait through the elections. That doesn't make sense. Delaying the executive order undercuts the case for issuing it at all.
To contact the author on this story:
Ramesh Ponnuru at rponnuru@bloomberg.net
To contact the editor on this story:
Christopher Flavelle at cflavelle@bloomberg.net
Before it's here, it's on the Bloomberg Terminal.
LEARN MORE