view
Hong Kong Democrats Need a New Strategy
Hong Kong's Occupy Central says it's ready to carry out its threats to paralyze the city. Here's why it shouldn't, for the sake of democracy.
by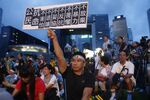 Occupy Central, the pro-democracy movement that threatened to shut down Hong Kong's central business district if China didn't heed its reform demands, says it's about to make good on its promise. The group plans to launch an escalating series of protests in early October to challenge the Chinese government's recent decision to limit candidates for Hong Kong's Chief Executive in 2017 elections.
To this point, Occupy's apocalyptic warnings about civil unrest have been little more than a bargaining tactic, designed to pressure leaders in Beijing to allow for more open elections. In a July interview, for instance, Occupy leader Benny Tai warned Hong Kong's business elite:
Occupy Central would cause serious disruption and hurt business, and you have a very high cost to pay for that. And exactly because there's such a high cost, you should convince Beijing not to allow Occupy Central to happen. ... Talk to Beijing and say to them, 'Let them have the democracy. I want to protect my business more.'
The problem is that the Chinese regime has called Occupy's bluff. The upcoming protests will thus be a test -- less for the central government than for Occupy itself, which has to show it can appeal to moderate, pro-business opinion in the city. If it can, the movement has the potential to grow and effect real change. If not, its protests could undermine the cause of democracy itself.
Despite anger over Beijing's hardline position on elections, stability remains almost a civic religion in Hong Kong. Few residents have much interest in sacrificing their quality of life for the sake of civil liberties they've never enjoyed before. They're willing to protest on occasion, such as during the annual July 1 holiday that marks the 1997 handover of the former British colony. In 2003, for example, more than 500,000 were estimated to have marched in opposition to a proposed sedition law, and this past summer an estimated 140,000 people came out in support of free elections in 2017. But those protests have been peaceful, orderly and temporary. Other than a few traffic hassles, they've hardly inconvenienced anyone.
The chances of Occupy attracting such consistently large crowds are slim, and bluffing a second time would be fatal to the movement. That's no reason to resort to more disruptive and alienating tactics, though.
A better strategy would be one that Occupy has already employed successfully: voting itself. In June, working with academic pollsters, the group organized a mock referendum on three proposals for organizing the 2017 polls, and whether Hong Kong's legislature should reject China's proposal if it didn't meet "international standards" for free and fair elections. Over six days, a total of 798,957 citizens voted, including moderate figures like Anson Chan, Hong Kong's former top civil servant and a widely respected voice in city affairs.
By contrast, Occupy has promised "at least" 10,000 people for its upcoming protest. Needless to say, those 10,000 citizens -- if they show up -- will hardly be representative of Hong Kong society. The energy spent on this economy-disrupting protest would be better spent organizing shadow votes that parallel Hong Kong's legislative and Chief Executive elections, as well as polls on other matters of concern to Hong Kong. (On Tuesday, Benny Tai indicated that additional referendums would be held.)
One key question that should be addressed immediately: how the 1,200-member nominating committee that will decide on candidates for the next Chief Executive will be chosen. Chan and others have suggested eminently reasonable ways to reform and partially democratize the body. While the central government isn't likely to budge, such proposals at least give moderates something to rally around.
Even unofficial polls would not only instill the habit of democracy, they'd help allay fears among Hong Kong's more conservative citizens about who the unruly masses might elect (in all likelihood, they'd elect even-keeled Hong Kong patriots). By providing regular access to such referendums and polls -- backed by the occasional, peaceful protest -- Occupy could also build itself into a broader political force, one that's known for more than empty threats.
No one's saying it will be easy to maintain public interest in such symbolic exercises. But in the interests of pulling together the broadest-possible coalition in favor of democratic change, it's worth trying.
To contact the author on this story:
Adam Minter at aminter@bloomberg.net
To contact the editor on this story:
Nisid Hajari at nhajari@bloomberg.net
Before it's here, it's on the Bloomberg Terminal.
LEARN MORE