Think Tanks Aren't Foreign Agents
The New York Times reports that some U.S. think tanks act as agents for foreign governments. That is the simplistic argument Russian President Vladimir Putin used against Russian non-governmental organizations to bring them to heel.
by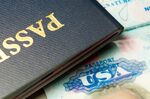 The New York Times published an investigation on Sunday that made me wonder if the U.S. might be heading for its own version of Russian President Vladimir Putin's paranoid isolationism. The article asked whether think tanks that get funding from foreign governments shouldn't register as foreign agents under the laws that govern Washington lobbyists.