Ravens Finally Stop Blaming Ray Rice's Victim
I certainly can't celebrate that we needed such visceral proof that Rice's victim wasn't to blame. I'm too busy thinking of the millions of women who have only their word.
by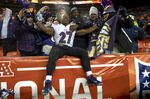 TMZ's leak of elevator security-camera footage of Ray Rice beating Janay Palmer was the straw that finally broke the star running back. It's a shame it took this long.