Dismal Life After the NFL
Even as we celebrate the start of a new season, the NFL should give more thought to easing the eventual transition of its players into the real world.
by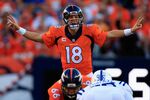 As always on the first weekend of the professional football season, journalists and fans alike wondered excitedly how highly touted new rookies such as Johnny Manziel and Jadeveon Clowney would perform. But in our exhilaration over the new, let's not forget the old. The rookies who enter the National Football League each year take the place of others who depart the league. What happens to them?