Got a Smartphone? You're Probably a Cyborg
Humans must learn to take responsibility for their electronic selves. 
by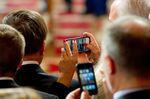 The Brookings Institution has published a paper arguing that we might all be cyborgs and that it's time for the law to respond to this transformation. I find the argument compelling: We have arrived at a stage where the devices we carry in out pockets, or wear on our wrists, are no less part of our being than they would be if implanted in our bodies.