Democrats Can Lose Senate and Raise Minimum Wage
No matter who controls the U.S. Senate, a "yes" vote on four statewide ballot initiatives on the minimum wage would greatly improve the prospects of a federal minimum wage bill. 
by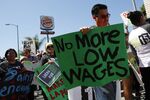 On Election Day, voters in four states -- Alaska, Arkansas, Nebraska, and South Dakota -- will decide whether to raise their minimum wages above the federal floor of $7.25 an hour. All four lean heavily Republican, yet early polling suggests the proposals are likely to pass.