Lackluster Jobs Numbers That Won't Matter in November
Barring some monstrous unexpected swing, there will be little reaction in November reaction to any particular jobs number.
by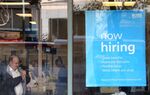 It's jobs day today, and the numbers for August are disappointing, with payrolls rising just 142,000, ending six consecutive months of gains exceeding 200,000. Jared Bernstein has a good first look.