Jobs Report Has Something for Everyone
The jobs report for August is disappointing, but it's not all bad.
by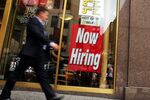 This morning's U.S. employment report was, at a headline level, disappointing. But, actually, it wasn't all bad.
The report confirms that the U.S. economy, while steadily improving and a lot stronger than Europe's, has yet to reach the "escape velocity" needed to overcome the risk of stagnation. It's weak enough to keep the Federal Reserve in its current policy mode, and hence comforting for financial markets, but not bad enough to jolt Congress out of its dysfunction.
The most disappointing aspects relate to job creation. At 142,000, net nonfarm job creation in August fell well short of expectations and represented the worst monthly performance so far this year. The prior two months' figures were revised down by a total of 28,000, damping what has been a relatively strong run of solid monthly job gains.
Fortunately, a number of areas showed improvement, including those that speak to the structural health of the labor market. Long-term unemployment fell by 192,000 to 3 million while the rate of teenage unemployment declined from 20.2 percent in July to 19.6 percent in August, a full three percentage points lower than a year ago. Annual wage growth edged up to 2.1 percent, led by a stronger private sector. And the improvements in both conventional and broader unemployment measures, while slight, were genuine and not due to a decline in labor participation.
The whole picture corresponds to the principal hypothesis underpinning the Fed's policy approach, which foresees an exit from quantitative easing this year and, most likely, modest interest-rate increases starting in the middle of next year. The duration and magnitude of this cycle depends not only on the global economy, but also on the extent to which the recovery can overcome secular headwinds such as slow productivity growth, unbalanced demand, excessive inequality, inadequate infrastructure and remaining debt burdens.
On the political front, expect today's jobs report to add to polarization. Both parties will find something in it to support their world views. Republicans will point to the disappointing monthly job creation in an effort to strengthen their case ahead of November's congressional elections. Democrats will take a more holistic view, pointing to the steady improvement in labor market conditions and noting that it would have been a lot stronger had the other side not torpedoed virtually every piece of economic legislation in the last few years.
Most investors, for their part, will find this report somewhat comforting, particularly amid recent worries that interest-rate jitters could undermine stock and bond markets. Both stock and bond futures pared their losses immediately after the report was released this morning.
The U.S. and the global economy would benefit from stronger growth in the labor market. Today's report suggests that we're not yet there.

This column does not necessarily reflect the opinion of Bloomberg View's editorial board or Bloomberg LP, its owners and investors.
To contact the author on this story:
Mohamed Aly El-Erian at melerian@bloomberg.net
To contact the editor on this story:
Mark Whitehouse at mwhitehouse1@bloomberg.net
Before it's here, it's on the Bloomberg Terminal.
LEARN MORE