Jobs Numbers Are a Blip, Not a Turn
If the economy was fully recovered, last month's jobs numbers would have been much better.
by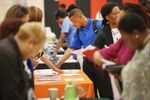 After years of languishing, the labor market finally seemed to be perking up over the last few months. Jobs reports were delivering solid growth and -- imagine -- even upside surprises. Just when we thought this party might really be getting going, along comes another disappointment: Only 142,000 jobs were created in August, barely enough to keep up with population growth, not enough to increase the percentage of the population that is in work.