How to Get Chinese to Buy Stocks
China's pushing average citizens to jump into the stock market. But they're wary for good reason.
by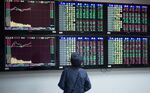 The Chinese government wants individual investors to return to the country's long-ailing stock markets, and it's using state-owned media outlets to browbeat them into doing so. According to a Bloomberg News report yesterday, Xinhua news agency has published at least eight articles this week extolling the virtues of Chinese equity investing. Stories have hailed a recent mini-bull market that might signal the end of a three-year period during which Shanghai's Composite Index lost a world-beating $460 billion in valuations.