Don't Bench Derek Jeter
People everywhere are flocking to catch one last glimpse of him. Can you imagine the rioting that would take place if they came to the stadium only to find him sitting on the bench?
by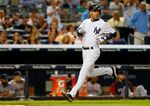 Derek Jeter spurs a lot of opinions. In 20 years, we've seen everything from full-scale worship to the backlash that inspires. All during this retirement season, sportswriters have clamored to give their take on his legacy and his place in baseball's annals.