Can Frank Underwood Beat China's Censors?
The Chinese government has announced that new regulations will restrict foreign programming that can be shown on Chinese streaming-video sites.
by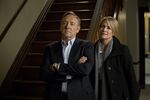 At first glance, the Chinese government's announcement of regulations restricting the amount of foreign programming that can be shown on Chinese streaming-video sites would appear to be very bad news for business. After all, foreign programming -- especially shows produced in the U.S., Europe, Japan and Korea -- is wildly successful in China. In April, when "The Big Bang Theory" and three other popular programs were pulled from streaming sites by government order, there was widespread public outrage.
That's hardly surprising. According to China's broadcast regulator, as reported by the Wall Street Journal, foreign programs are so popular that they account for more than half of the television content on popular Chinese video websites. Not all of them are successful, of course. But those that are popular -- Korean soap operas, "House of Cards," the BBC's "Sherlock" series, to name some recent examples -- have a tendency to reach the top of most viewed lists, dominate social media and become national topics of conversation. That results in part from the fact that streaming video sites are subject to far less regulation and censorship than television in China -- a fact that naturally galls the country's state-controlled television industry and programmers. It also seems to bother Chinese President Xi Jinping, who has been busy promoting the establishment of new media groups. Sooner or later, the government was going to tighten its grip on video streams.
Friday afternoon in China, the country's broadcast regulator issued a notice that the new rules -- which aren't yet public -- will go into effect spring 2015. According to Bloomberg News, they'll require streaming sites to register foreign films and television programs with the government (and thereby subject them to censorship), and restrict foreign programs to 30 percent of a streaming site's content.
For streaming sites which compete fiercely for the rights to foreign programs (prodcuers of popular Korean programs can ask as much as $300,000 for a single episode, according to the Wall Street Journal), that might be the best news they've received since the invention of the Internet.
Take, for example, Youku, China's biggest streaming video company, which claims to have more than 500 million monthly users. According to its second quarter earnings statement, the company spent $67.4 million on content in the second quarter, or 44 percent of net revenue, compared with 40 percent of net revenue in the same quarter of 2013 (and 25 percent and 37 percent for the second quarters of 2011 and 2012). Thanks to the new regulations, the streaming sites will now be forced to rely on cheaper Chinese programming (and viewers will be forced to watch it or look for pirated foreign content). Meanwhile, earlier this week Chines broadcasting executive speculated to the Wall Street Journal that foreign production companies may not be able to demand such high prices. Indeed, they will be competing for reduced space.
This is entertainment protectionism, and it's nothing new. China has long protected its domestic foreign film industry from a backbreaking onslaught of American blockbusters, and with some success. In 2013, a year in which the foreign film quota was set at 34 films (often made to compete against each other so that domestic films don't have to), 59 percent of China's $3.6 billion box office gross went to the domestic industry, according to the Hollywood Reporter (that includes the biggest domestically-produced hit in Chinese film history, "Lost in Thailand.").
Of course, this isn't just about the money. The Chinese government under Xi Jinping is far more determined than its recent predecessors to exercise control over mass media and its message. Pushing foreign influence off streaming video sites is a natural place to continue this battle. And if it turns out that ideological purity is good for business, all the better.
This column does not necessarily reflect the opinion of Bloomberg View's editorial board or Bloomberg LP, its owners and investors.
To contact the author on this story:
Adam Minter at aminter@bloomberg.net
To contact the editor on this story:
Zara Kessler at zkessler@bloomberg.net
Before it's here, it's on the Bloomberg Terminal.
LEARN MORE