Will Kansas Go Blue?
Kansas hasn't elected a Democratic senator since 1932.
by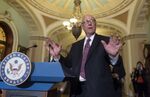 Could Kansas, the most reliably Republican state, elect a Democratic governor and unseat an incumbent Republican senator in what is expected to be a Republican year?
It's possible, and you could chalk it up to Republican deficiencies, not Democratic gains.
Kansas hasn't elected a Democratic senator since 1932. But the current race became competitive when the Democratic candidate dropped out yesterday, leaving independent Greg Orman, a businessman, a clear shot against three-term Republican incumbent Pat Roberts. (Secretary of State Kris Kobach ruled today that the Democratic candidate had to remain on the ballot. The ruling is being appealed.) Although Orman has contributed to both parties -- he says he voted for Barack Obama in 2008 and for Mitt Romney in 2012 -- Democrats are expected to rally around him. Polls show a close race, and some even give Orman a lead in a two-way contest.
Roberts was cut up by a right-wing challenger in a bruising primary. More important, there's a sense that he's "gone Washington," and is out of touch with Kansans. He voted against the farm bill and doesn't maintain a home in his state, paying rent to stay with two longtime supporters when he's in from Washington.
The incumbent governor, Sam Brownback, is in trouble, too. He is a staunch conservative who purged some moderate Republicans from the state legislature. A number of them now are rallying around Brownback's Democratic challenger, Paul Davis, a state legislator. Three polls -- of varying reliability -- show Davis with a lead of five to 10 points.
Kansas has periodically elected Democratic governors, most recently Kathleen Sebelius, who won twice before signing on as Obama's first Secretary of Health and Human Services.
Still, it would be a shocker if the home of Bob Dole, Alf Landon and his daughter Nancy Kassebaum -- all distinguished moderate conservative Republican officeholders from America's Breadbasket -- goes blue in 2014.
This column does not necessarily reflect the opinion of Bloomberg View's editorial board or Bloomberg LP, its owners and investors.