The Euro Is Draghi's Only Friend
Mario Draghi looked uncharacteristically angry at today's ECB press conference, suggesting he's having to fight Bundesbank President Jens Weidmann all the way on how to revive the euro region economy.
by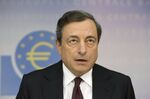 Pity European Central Bank President Mario Draghi. He tells European governments they need to do more to resuscitate the economy, and German ChancellorAngela Merkel gets on the telephone to ask if he's renounced austerity. He warns governments they can't shirk their fiscal responsibilities, and France abandons its deficit target. He suggests a bond-buying program, and someone on the ECB's governing council -- almost likely Bundesbank President Jens Weidmann -- objects.
For all his talk about unconventional policy measures to combat the risk of deflation and revive growth, Draghi's playbook actually is a blast from the past -- a good old-fashioned currency devaluation. The slowdown in inflation, he said today, is due to an unforeseen decline in energy and food prices, and the "appreciation of the exchange rate" as it gained almost 7 percent from September 2013 until the first week of May. Here, at least, he's on a three-month winning streak: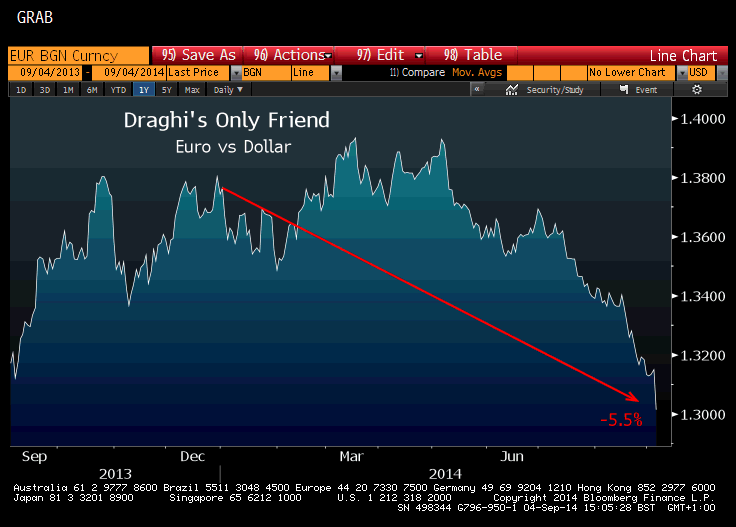 Even with the euro dropping below $1.30 for the first time since July 2013, Draghi looked uncharacteristically angry at today's monthly press conference, at which he unveiled a suite of interest rate cuts as well as a program to buy asset-backed bonds that will kick in next month. The reason became clear when he was asked whether today's decisions were unanimous. "No," he said. "Some governing council members were in favour of doing more than I have just presented, some in favour of doing less. There was a comfortable majority in favour of doing the program."
Which in turn means there was an uncomfortable minority opposed to the plan. Germany's Weidmann has described bond buying as "problematic," which puts him in the frame as the key dissenter.
Because the ECB doesn't publish the minutes of its deliberations (an opacity it plans to resolve in coming months), it's impossible to know how bloody the philosophical battle among policy makers has been. It looks as if Draghi has to fight for every concession, which might mean the criticism that he hasn't done enough is misdirected.
The biggest surprise in today's announcements was Draghi's hint at how big the asset purchases might be. He said the ECB's intention is to "steer the size of our balance sheet toward the dimensions it used to have" in 2012. Here's a chart delineating what that might mean: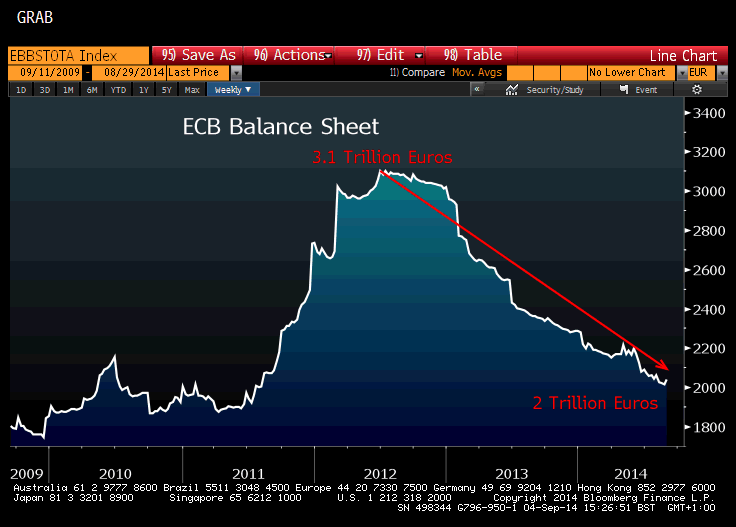 If Draghi is serious, and if he can drag Weidmann along, that suggests the ECB may be poised to unleash as much as 1 trillion euros ($1.3 trillion) of firepower into the economy. That might be enough to win Draghi some friends outside of the currency market.
This column does not necessarily reflect the opinion of Bloomberg View's editorial board or Bloomberg LP, its owners and investors.