Gimmick or Not, Cowboys are Michael Sam's Best Shot
The Dallas Cowboys just added the ultimate "distraction" to their practice squad.
by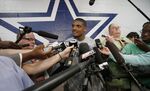 So the Dallas Cowboys have added the ultimate "distraction" to their practice squad, and we should consider it a welcome one.
After being cut from the St. Louis Rams, Michael Sam signed with the Cowboys on Wednesday, breathing life into his quest to become the first openly gay player in the National Football League.
The Cowboys are characterizing the move as a purely football decision, and NFL writers overwhelmingly agree. Despite a disappointing combine, Sam had an impressive preseason, with three sacks and 11 tackles in four games. At 6'2, 260 pounds, Sam is undersized for a regular defensive end, and he's not athletic enough to be an outside linebacker. He best fits in as an edge rusher, and the Cowboys are one of the few teams that play a 4-3 defense suited for a "tweener" such as Sam. And Dallas can certainly use the help on a pass rush that has suffered many setbacks this preseason.
Sam, a native Texan, seems to fit in well in Dallas, but nobody would fault you for still suspecting his signing might be a publicity stunt. These are the Cowboys, after all, the team that brought you cheerleaders, colossal Diamond Vision and Jerry Jones being gross and weird on camera. Dallas loves a good spectacle.
This is also a team that's proved in the past that it's not afraid to make roster moves amid accusations of PR: In 2010, the Cowboys promoted receiver Jesse Holley to the 53-man squad. Holley had won an invitation to training camp on the Spike TV reality show "4th and Long," hosted by Michael Irvin. Even then, the team insisted the decision was based on its need at special teams. Holley had a total of seven receptions and two returns in two seasons with the Cowboys.
Sam's signing could very well be Jones' way of making up for the headline-maker he lost when he allegedly had his draft card snatched out of his hand ready to pick Johnny Manziel, the ultimate Texas spectacle. Frankly, despite Jason Garrett's protestations that "this is about football" and "we've got to be careful about spending too much time on a practice roster player," I have a hard time believing anything Jones does isn't at least partly about making a splash.
But the fact of the matter is, that doesn't matter. In fact, it actually works in Sam's favor.
Back in August, the Sacramento Kings signed New Mexico State University center Sim Bhullar to a training camp contract, the first player of Indian descent in the National Basketball Association. Unlike Jones, Kings owner Vivek Ranadive was quite open about the fact that this was a sort of gimmick, part of his push to promote India as "the next great frontier for the NBA."
Vice Sports's Howard Megdal noted that while Bhullar isn't immediately ready for the NBA, he might actually benefit from being a gimmick. He now has the opportunity to lose some weight and grow his game on the Kings' D-League team, thanks as much to his unique skillset as his heritage.
Similarly, even if Sam's signing was to capitalize on his celebrity, that still benefits both Sam and every gay kid who dreams of playing in the NFL. Sam doesn't have the upside of Bhullar, but he is a niche player who can fit in the right role on the right team. He now has that opportunity to show the Cowboys that he belongs in the NFL.
Truthfully, people are always cynical when barriers begin to fall. Last month, detractors accused the NBA Players' Association of hiring its first female head for the sole purpose of making history. Quieter yet similar whispers surrounded the San Antonio Spurs when they hired Becky Hammon to become the first female assistant coach in the league. The Spurs are no strangers to people mistaking progressivism for publicity: Fans and media alike scoffed at the team's propensity for signing foreign-born players. Five championships later, everyone's a believer.
Ever since Michael Sam came out, through draft night, training camp, and up until now, he's insisted that he wants to be seen "as Michael Sam the football player, instead of Michael Sam the gay football player." LGBT rights advocates have echoed this, stating that the best thing Sam can do to further equality isn't interviews or talk shows -- it's to simply make the team, to finally break that barrier and put to rest the disingenuous, euphemistic aversion to the "distraction" of gay football players. He now has a second chance to do that, publicity stunt or not.
This column does not necessarily reflect the opinion of Bloomberg View's editorial board or Bloomberg LP, its owners and investors.