Mario Draghi's Stimulus Dilemma
Thanks to the inaction of European governments, the ECB probably won't be able to launch a full-scale stimulus program this week.
by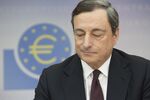 European Central Bank President Mario Draghi has mounted a new and ambitious campaign to get the euro-area economy out of the doldrums. At last month's central-banking conference in Jackson Hole, Wyoming, he signaled that the ECB is ready to use "all available instruments" to stimulate growth, provided European governments move ahead with the fiscal flexibility and structural reforms needed to support a healthy recovery.
Judging from the governments' reaction so far, it is unlikely that the ECB will launch a full-scale stimulus at its Sept. 4 policy-making meeting.
This is not the first time that Draghi has sought to influence the course of government policy. Two years ago, he helped politicians come together on a banking union, a key component for a successful monetary union in the euro area. When they did, he was able to act boldly by committing the ECB to do "whatever it takes" to preserve the union -- a move that brought the euro area back from the brink of financial disaster.
This time around, politicians seem stuck in a piecemeal mind-set. German politicians have supported Draghi's call for reforms aimed at making it easier to hire and fire workers and generally improving the environment for businesses, but they are not too wild on his call for fiscal "flexibility," which would ease the budget austerity that has been weighing on many euro-area economies. The French, by contrast, have welcomed Draghi's remarks that "fiscal policy could play a greater role alongside monetary policy," but they are a lot less keen on tougher structural reforms.
As a result, the ECB finds itself in yet another "catch-22" situation. If it boldly moves ahead of the politicians with a quantitative-easing program entailing the purchase of a trillion euros in securities, the impact on growth will fall short of what's needed while exposing Europe to a higher risk of financial-market instability down the road. If it does nothing while waiting for politicians to get their act together, Europe's stagnation and deflationary forces will become even harder to combat -- a risk accentuated by a recent string of weak economic data and the conflict in Ukraine.
The most likely outcome, then, will be a middling approach in which the ECB announces some new measures while promising more comprehensive ones for later in the year. The former would involve some type of credit easing, including possibly a program to buy millions of euros of asset-backed securities -- rather than the trillion euros that a full-scale quantitative-easing program might entail. The latter would look ahead to the European economic summit scheduled for Oct. 7, urging agreement on government policies that would be then be supported by further monetary stimulus.
Draghi is right that ECB policy will not be fully effective unless accompanied by structural reforms and more flexible fiscal policy. Yet he probably won't allow the ECB to be totally paralyzed by politicians who fail to live up to their economic governance responsibilities. The result will be yet another second-best policy compromise -- one that allows for some progress but falls well short of the breakthrough that Europe desperately needs.
This column does not necessarily reflect the opinion of Bloomberg View's editorial board or Bloomberg LP, its owners and investors.