Editorial Board
How Pakistan's Army Weakens Pakistan
Pakistan has been wounded by the military's handling of the crisis that threatened to topple Prime Minister Nawaz Sharif.
by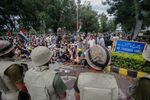 The alarming prospect of a coup in nuclear-armed Pakistan appears to be receding. But the country has been wounded by the military's handling of the crisis that threatened to topple Prime Minister Nawaz Sharif.
For more than two weeks, the generals allowed opposition politician Imran Khan and maverick cleric Tahir-ul-Qadri to whip up unruly protests in the center of Islamabad on suspiciously flimsy pretenses. Khan alleged massive rigging in last year's elections, for which there is little to no evidence. Qadri demanded that Sharif's government be removed for incompetence and corruption and replaced by unelected technocrats. Repeated assertions that the military was not taking sides -- "Army is apolitical," read one vaguely Orwellian text message earlier this week -- were barely credible. Protest leaders would hardly have remained so intransigent had they not sensed some sympathy from the brass.
Unlike army leaders in Thailand, who seized power outright after tolerating similarly disruptive street protests in Bangkok, Pakistan's generals know that yet another coup in their country would prompt a cutoff of billions in aid and loans and spur widespread popular dissent. Instead, they appear content to have weakened Sharif, who had angered some army leaders by prosecuting former dictator Pervez Musharraf and reaching out to archenemy India. The chances that the prime minister will ever again defy the military's wishes in foreign and defense policy now seem infinitesimal.
Yet this can only be bad for Pakistan. Rapprochement with India could potentially expand trade to $40 billion a year, from $3 billion today, and free up billions that both nations now spend on defense (one reason the generals dislike the idea).
As for Afghanistan, Sharif had expressed a willingness to work with any new government in Kabul. But the army is much more likely to play favorites there in a misguided attempt to counter Indian influence. Afghanistan's current transition is already close to collapse; Pakistani meddling can only destabilize the country further.
Sharif's bid to make peace with the Pakistani Taliban may have failed. But the army's ensuing offensive in North Waziristan has been no panacea, either. While troops battle jihadists who challenge the Pakistani state, insurgents from more favored groups -- including the Haqqani network and the India-focused Lashkar-e-Taiba -- got plenty of warning to relocate. Continued support for such militants is riskier than ever: India's new right-wing government is not likely to tolerate another Mumbai attack.
As the self-appointed guardians of Pakistan's sovereignty, the army thinks it only natural to play a central role in policy. Yet over the past half century, its interference has led to a series of losing wars, contributed to nuclear proliferation and the rise of global jihadism, tarnished Pakistan's international reputation, undermined its internal governance, and helped cripple its economy.
Sharif may indeed be incompetent or corrupt; he has surrounded himself with cronies and appointed family members to several government posts. Until calling a joint session of parliament this week to shore up his support, he had barely bothered to attend the legislature.
But it's not the military's job to hold the prime minister to account. A commission will now look into questions of vote-rigging. The courts are the place to address allegations of corruption. The parliamentary opposition and even members of Sharif's own party should pressure his administration to govern more effectively. And voters, ultimately, are the ones to decide whether to throw the prime minister out.
Sharif's victory last year represented the first peaceful transfer of power between elected governments in Pakistan's 67-year history. (Indonesia, in comparison, has witnessed three such transitions since the end of its military rule in 1998.) Given time, Pakistanis can improve their civilian governments. But first the army needs to get out of the way.
--Editors: Nisid Hajari, Mary Duenwald.
To contact the author on this story:
The Editors
To contact the editor on this story:
David Shipley at davidshipley@bloomberg.net
Before it's here, it's on the Bloomberg Terminal.
LEARN MORE