Fast-Food Strike Likely to Strike Out
Another high-publicity, low-participation walkout won't win unions more members or higher wages.
by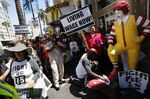 The Service Employees International Union is stepping up its attempts to unionize fast-food franchises with a day of demonstrations and "civil disobedience" planned for Thursday. Last year's walkout resulted in a lot of nonsense being talked about minimum wages, but very little other real impact that I'm able to see. The SEIU apparently hopes that by bringing in civil disobedience -- and some home health-care workers who would also like to make $15 an hour -- they'll be able to raise the stakes and make a real dent in a difficult problem: trying to mass-organize a highly fragmented, extremely competitive industry.