Berlin's First Copycat Startup Success Story
Fashion retailer Zalando's IPO puts Berlin on the tech world's map as the home of a ruthlessly efficient assembly line for copycat businesses.
by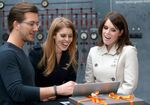 Zalando, an online fashion retailer, will sell shares to the public in Frankfurt before the end of this year in the first truly big exit from Berlin's supposedly hot startup scene. The initial public offering will put Berlin on the map as the copycat capital of the technology world, proving the viability of the ruthlessly practical, unromantic approach to the online economy practiced by the Samwer brothers, investors in Zalando and creators of startup factory Rocket Internet.