Why This Market Rally Is So Unloved
Readers' comments suggest investors don't trust the rally but won't fight central banks. 
by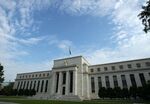 Last week, with summer coming to an end, I asked readers of this column to offer their views on the state of financial markets. The responses I've received in the comment section, by e-mail and on Twitter shed light on why the recent impressive asset-price rallies remain so unloved and are constantly questioned.