Uber Acts Too Superior for Germans
Uber seems intent on flouting German law for no particularly good reason.
by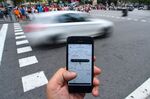 Facing a court-ordered ban on picking up passengers throughout Germany, Uber, the car-hailing company, is typically belligerent. The company said it will defy the court ruling -- its biggest legal setback yet -- and continue picking up passengers in the name of "progress." I can't help but wonder if Uber wouldn't be better off dropping this cowboy approach and playing by the rules: In Germany of all countries, the rules are not all that unreasonable.
Uber is not fighting an evil monopoly here. About half the market belongs to so-called car hire companies, which can only take orders the way Uber does and are prohibited from cruising the streets for passengers. Their fares are unregulated, though their drivers must have commercial licenses to carry passengers. Unlike in New York City, for example, there is no need to obtain a costly medallion to drive a taxi in Germany. Some German cabbies are small entrepreneurs who only own one car. The company that sought the Frankfurt court ruling is a dispatcher service that works with numerous taxi firms.

Nor is the German bureaucracy especially hostile. Obtaining a passenger-carrying license is not much of a hassle. In Frankfurt, for example, a driver needs to undergo a medical examination and pass a Chamber of Commerce exam to test her knowledge of the city. The entire cost is less than 100 euros (about $130).

After finding that Uber's drivers are unlicensed and inadequately insured, the regional court in Frankfurt has threatened Uber with a 250,000 euro ($328,000) fine for every passenger who uses its low-cost Uberpop service. (Uber denies that its drivers lack insurance.)
The U.S. entrant with a German name, which translates as "superior," is behaving as though it is above German law, which is not the kind of conduct that the German system readily tolerates. Bending or circumventing rules is not unheard of here, but ignoring them altogether just is not done.
In 2013, Germany liberalized its bus market, allowing greater competition in coach services against Deutsche Bahn, the state-owned railway monopoly. The new market leader, with a 40 percent share, is a start-up called MeinFernbus, which has a high-tech routing and fare system created from scratch by Ukrainian programmers.
German cab service leaves room for a similar kind of competition: Traditional dispatcher services are not particularly efficient, and fares are easy to undercut. Uber is already taking advantage of the shortcomings. It says that its German user registrations have quintupled since the start of the year. If Travis Kalanick's company could tone down its aggression, deal with the paperwork and lobby for any desired relaxation of the rules, its growth might slow a little, but progress would still be served.
This column does not necessarily reflect the opinion of Bloomberg View's editorial board or Bloomberg LP, its owners and investors.
To contact the author on this story:
Leonid Bershidsky at lbershidsky@bloomberg.net
To contact the editor on this story:
Frank Wilkinson at fwilkinson1@bloomberg.net
Before it's here, it's on the Bloomberg Terminal.
LEARN MORE