Punching Back at Putin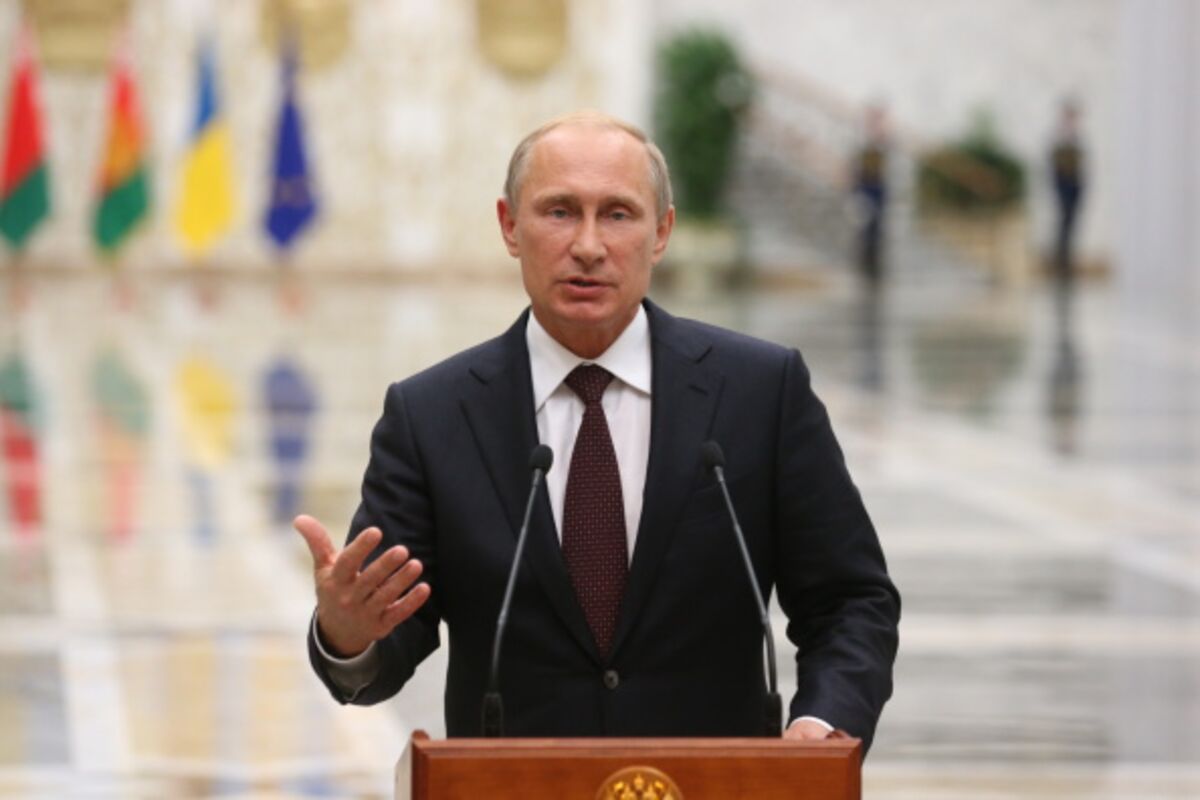 Some of the murk and subterfuge cloaking the crisis in eastern Ukraine is now clearing as it becomes evident that Russian troops have invaded. The response from the U.S. and the European Union has to get clearer, too.
Over the last few weeks, Russia's direct involvement in Ukraine's fighting -- always obvious to anyone who cared to look -- has become undeniable. The North Atlantic Treaty Organization estimates that at least 1,000 regular Russian troops are now in Ukraine, equipped with tanks, artillery and, it seems, missiles that can hit naval vessels at sea. They have swiftly turned the tide of battle in favor of the separatist rebels.
Russian President Vladimir Putin, meanwhile, has become more blunt, warning the U.S. and Europe not to "mess with us" and threatening to march on Kiev. He has demanded that Ukraine begin talks with rebel leaders on "statehood" for the east. With Putin's encouragement, the rebels in eastern Ukraine are now fighting for an entity called Novorossiya, a swathe of Ukraine from Donetsk to Moldova that once belonged to the Russian empire.
How to respond? Given the (not unreasonable) unwillingness of the countries of NATO to go to war with Russia over Ukraine, it would be unwise for the alliance to start sending heavy weapons to the battlefield. Russia would only respond in kind, guaranteeing a more bloody conflict with the same outcome or worse.
Yet the U.S. and the EU do need to "mess" with Putin. German Chancellor Angela Merkel has rightly said the EU must impose a new round of economic sanctions on Russia by the end of the week. Those who argued for a tepid response in the past -- the French government, German businesses, British banks -- have lost this argument.
That said, this asymmetric, euros-versus-bullets approach is an experiment. It may well fail, and without doubt it will not save Ukrainians much misery over the coming months and even years. Executed with determination, however -- more so than it has thus far -- it could convince Russians that Putin's post-imperial dream is simply not worth the cost.
Every kind of sanction, on the financial to the energy sectors, should now be triggered. The U.K. is proposing to exclude Russian institutions from Europe's Swift financial clearing system, which several EU nations are likely to veto. Which is too bad, because it is exactly the kind of sanction that could make Putin rethink his strategy.
In the meantime, Ukrainian President Petro Poroshenko and his U.S. and European supporters have to be realistic about the military outlook. Their aim should be peace talks and a cease-fire. International peacekeepers from the United Nations or the Organization for Security and Cooperation in Europe can be drafted to monitor it and seal the Russia-Ukraine border.
There are "victories" that can be offered to Putin, such as a guarantee from Ukraine that it won't join NATO (something Ukrainians had no interest in until Putin annexed Crimea). Poroshenko can also reiterate his pledges to guarantee Russian language rights and decentralize power within Ukraine.
If that were all Putin wanted, however, this conflict would have ended long ago. It isn't, and it hasn't, which is why the EU and the U.S. need to ensure that the next round of sanctions illustrate their resolve to defend Europe's security rather than their reluctance to do so.
--Editors: Marc Champion, Michael Newman.
To contact the editor on this story:
David Shipley at davidshipley@bloomberg.net