India Needs More Banks, Not Just Bank Accounts
India's Narendra Modi wants to bring bank accounts to 800 million people. Why he's going about it the wrong way. 
by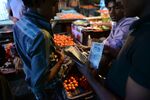 Only a third of India's 1.2 billion people have a bank account. More than twice as many -- some 900 million people -- own mobile phones. There is a deep irony in that comparison. In 1969, then-Prime Minister Indira Gandhi nationalized India's banks specifically in order to bring more citizens within the ambit of the financial system; more than four decades later, that goal remains far from reach. By contrast, the government unleashed a mobile-technology boom in the 1990s simply by deregulating India's telecom sector.
So why is current Prime Minister Narendra Modi, supposedly a champion of free enterprise, following the same state-driven path as Gandhi and her Congress Party heirs? In the most dramatic decision of his first 100 days in office, Modi started last week a "financial inclusion" initiative designed to provide every Indian household with access to a bank account. The goal is worthy. Modi's chosen method, however, is flawed.
His plan would offer all those who open a bank account an overdraft facility worth about $85, life insurance worth about $500 and accident insurance worth $1,600. The prime minister has directed government-owned banks to take the lead in reaching out to new customers. It would be only reasonable to assume that these banks will also finance the associated freebies. In the end, the cost will have to be borne by taxpayers because the state is responsible for the capitalization of the banks it owns. Modi is simply trying to fulfill the original goal of nationalization -- using the government to include the excluded.
The trouble, of course, is that financial "inclusion" means more than simply owning a bank account or a little life insurance. The success of any banking and financial system ought to be judged on how easily and cheaply it provides access to credit. By this measure, the state-dominated Indian banking system has largely failed. For one, credit is too expensive. Bank prime lending rates tend to be several percentage points higher than the Reserve Bank of India's benchmark lending rate (if the benchmark rate is 8 percent, the prime lending rate can be as high as 14 percent). At the same time, the biggest banks function as near-oligopolies. They have little incentive to expand coverage and lend to the poor or to small entrepreneurs.
At the root of these two problems of cost and access is a debilitating lack of competition. Shut out from established sources of credit, the poor and small entrepreneurs typically end up borrowing from local money lenders at exorbitant rates of interest, sometimes up to 100 percent a year. At best borrowers can seek out loans from microfinance institutions; while these charge a significant premium over regular banks, the rate seems reasonable when compared with moneylenders.
A truly competitive banking system would expand credit to many more customers. Banks would have an incentive to develop innovative products which lowered the cost of finance to consumers and investors.
Unfortunately, the current policy actively discourages competition. Successive governments have ruled out privatizing or breaking down the giant public-sector banks (the State Bank of India alone commands a 25 percent market share). Although the sector has been liberalized somewhat since 1991, licenses for new banks are very rarely given out. Earlier this year, the state issued two new licenses after a gap of more than a decade. Foreign banks operate under a repressive regulatory regime, and cannot expand their network of branches without government approval.
If Modi is serious about including hundreds of millions of poor Indians in the financial system, he needs to open up the banking sector to more private and foreign banks and reduce the dominance of state-owned banks. Only then -- with more competition, rather than expensive populist schemes -- will he be able to fulfill what is undoubtedly a critical and praiseworthy goal.
This column does not necessarily reflect the opinion of Bloomberg View's editorial board or Bloomberg LP, its owners and investors.