view
China's Runaway Steel Industry
Despite orders from Beijing, China's steel industry continues to expand at a dizzying and unprofitable pace. Can anything slow it down?
by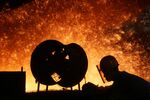 Last weekend, the best place to observe China's wrenching effort to retool its growth model and economy might have been the Beijing Landmark Towers, a run-down government-owned hotel where rooms could be had for around $70. For delegates to the eighth annual China International Metal Recycling Forum, the setting was a stark comedown from last year, when the same event took place in a sparkling new Le Meridien in Chongqing, gateway to western China. Instead of a lavish affair for 500 wealthy steel and recycling executives, this weekend's conference hosted maybe 300 decidedly downbeat industry figures, all focused on what several speakers referred to as a "new reality."
The numbers tell the story. According to Zhu Jimin, executive vice-chairman of the state-run China Iron and Steel Association, production capacity for China's steel industry has grown by an astonishing 200 million tons since late 2012, to 1.1 billion tons today. (By contrast, the entire U.S. steel industry produced only 87 million tons in 2013.) Yet first half domestic consumption of steel stands at 376.1 million tons, up an anemic 0.4 percent over the same period last year. Steel exports are growing but at the expense of "increasing trade conflicts and constant trade remedy investigations."
The result, as every conference attendee was well aware, is massive overcapacity. Prices continue to plummet. During the first half of 2014 they were down 8.79 percent year-on-year, despite the strong export numbers, putting many large, state-subsidized businesses in serious financial peril.
This is a familiar problem for China's policymakers, from President Xi Jinping on down. Last October, China's ruling State Council singled out steel, flat glass, cement, aluminum and shipbuilding as sectors that had developed dangerous levels of overcapacity, and in March, they announced (among other measures) that they intended to trim 27 million tons of steel production, in addition to the 10.44 million they had proposed to cut in 2013. Of course, that's just 3.3 percent of the current steel production capacity -- or 18.5 percent of the total capacity added in the last year. But far bigger cuts (as much as 400 million metric tons) targeting technologically out-of-date and polluting mills are rumored to be in the pipeline.
Given the mandate from Beijing to halt the runaway growth in capacity, why are Chinese steel mills still expanding? The problem is driven by a number of intractable forces that Xi's administration, to its credit, has tried to target. These include government subsidies that accelerated as a result of the post-2008 economic stimulus; too-easy access to finance (via so-called shadow banks, among other venues); and outright malfeasance (kickbacks on construction jobs are a strong incentive to build more steel mills). Making the task even harder is the fact that most of China's steel industry is owned by or otherwise associated with local government units that derive revenue and jobs from the plants, and thus remain reluctant to heed the central government's orders.
No doubt that's why, despite the doom and gloom in the conference hall at the Landmark Towers, roughly a dozen equipment vendors rented booths to peddle their capital-intensive wares to attendees. Some of this equipment will surely contribute to the overcapacity problem. But much of it was technically advanced and likely to improve upon and replace the low-tech, inefficient and polluting equipment that Xi's government has said that it would like to shut down.
That's much easier said than done, especially amid a politically unpalatable manufacturing slowdown that has the potential to sap the momentum for reform. Under such circumstances, even Xi might well decide that more working steel mills are better than fewer, and leave the tough decisions for later.
To contact the author on this story:
Adam Minter at aminter@bloomberg.net
To contact the editor on this story:
Nisid Hajari at nhajari@bloomberg.net
Before it's here, it's on the Bloomberg Terminal.
LEARN MORE