The Incredible Shrinking Tesco Challenge
Tesco is half the company it was four years ago. The good news for new CEO Dave Lewis is that his mandate for change probably expands with every lurch lower in Tesco's shares
by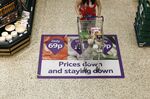 On July 21, Dave Lewis was appointed chief executive officer of the U.K.'s biggest retailer Tesco Plc, an apples-to-electronics-to-banking company that had a market capitalization of almost 24 billion pounds. Today, as he starts work a month earlier than planned, the company isn't worth much more than 18 billion.
Indeed, Tesco is half the company it was four years ago. Outgoing CEO Phil Clarke's adventures in everything from video on demand to electronic books and Tesco's own tablet have been a disaster; his retirement gifts should include a "Honey I Shrunk the Company" sweatshirt: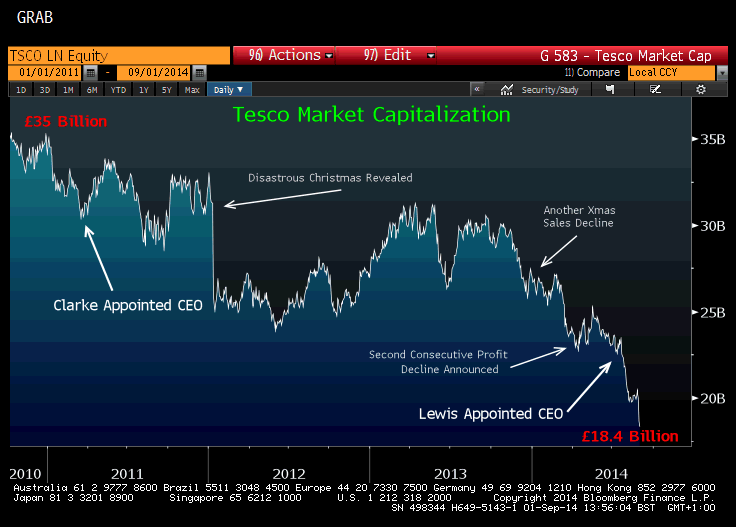 The share price took another battering today, after the Sunday Telegraph newspaper reported that investment company Harris Associates cut its holdings in Tesco to 1 percent of the company, from 3 percent. The 1.6 percent drop means the stock has lost more than a third of its value this year.
Tesco still has a market share of about 28.8 percent, according to Kantar Worldpanel data published last week, compared with Aldi's 4.8 percent and 3.6 percent at Lidl, the discount supermarkets that have been eating Tesco's lunch in U.K. food sales. The Kantar survey, though, pointed out that more than half of all U.K. households had visited one of the bargain shops in the three months prior to its Aug. 27 report; Tesco needs to move swiftly to stop its business from hemorrhaging further.
John Kershaw, an equity analyst at the brokerage firm Exane BNP Paribas, wrote today that Lewis's role has moved from "head of Unilever personal care to CEO of Tesco intensive care," in a reference to his former job.
The good news for Lewis is that his mandate for change probably expands with every lurch lower in Tesco's shares; Tesco's condition is serious enough that he won't need to bother with consent forms if he decides radical surgery is needed.
This column does not necessarily reflect the opinion of Bloomberg View's editorial board or Bloomberg LP, its owners and investors.