What Mattered This Week?
Pennsylvania's Medicaid expansion matters. What did you notice this week?
by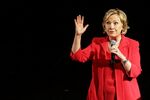 It didn't all happen this week, but the Pennsylvania Medicaid expansion mattered. It mattered, first of all, for those who will qualify and receive insurance, but also as another indication that Medicaid expansion, while slow, is still moving towards eventually becoming universal. It may turn out to take longer than the original rollout of Medicaid in the 1960s (and 1970s), but the logic of expansion for state governments is just too strong to be halted by partisanship over the long term.

I didn't follow the news as closely as usual this week, so I'm not sure I ran into anything good for "doesn't matter," but certainly the timing of Hillary Clinton's response to Ferguson didn't matter at all.
So, I'm depending on you: what did you notice? What do you think mattered this week?

This column does not necessarily reflect the opinion of Bloomberg View's editorial board or Bloomberg LP, its owners and investors.