Understanding Housing's Dog Days
What's really going on in the U.S. housing market? 
by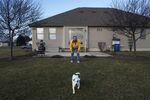 The slowdown in the U.S. housing market has caused much hand-wringing. But keep this in mind: robust housing sales and price gains in 2013 were the anomaly and at odds with tepid economic fundamentals such as income, employment and credit. It's the year-over-year comparisons that make things look worse than they are.
Here's how I sum up the state of the housing market based on recent data: Supply is up, sales are slowing and the result will be more modest and sustainable price increases.
The following charts present nonseasonally adjusted monthly data using existing inventory, home sales and pending home sales from the National Association of Realtors and home prices using the S&P/Case-Shiller Home Price 20 City Index.
As you can see in the first chart, the existing inventory of unsold homes is approaching 2.4 million. This has been about the median during the past 15 years. This should help restrain excessive price increases.

The next chart shows that sales so far this year are following a pattern that's well within historic norms, with none of the odd behavior of recent years.

The next chart shows that pending sales this year also are within normal limits, a contrast to last year, when pending sales jumped well above the long-term median.

The last chart shows that although home-price growth is well above the long-term median, the rate is slowing. More modest price gains are a key to a sustained housing-market recovery.

This column does not necessarily reflect the opinion of Bloomberg View's editorial board or Bloomberg LP, its owners and investors.