The Incredible Shrinking Airline Seat Has a Back Story
Passengers were already uncomfortable on trains in the 19th century.
by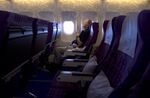 Is it fine to recline? Last weekend, two passengers got into a fight aboard a Denver-bound flight over precisely this question. One sought to recline, but the occupant of the seat behind him frustrated his attempts with a plastic prophylactic called the Knee Defender.