Republicans Misread Their 'Gender Gap' Problem
It's not news that women are more likely to vote for Democrats. But Republicans are thinking about the problem the wrong way.
by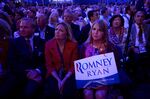 Polling turns out to be a business in which generating data that confirm the thuddingly obvious can get you both money and news media attention.