Mr. Modi Goes to Tokyo
India's Narendra Modi heads to Tokyo with a high-profile delegation, hoping to attract billions in Japanese investment. He needs to get his own house in order first. 
by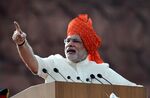 Indian Prime Minister Narendra Modi sets off for Japan this weekend on a wave of hype and hope. He deliberately singled out Tokyo for his first bilateral visit outside the Indian subcontinent and has courted Prime Minister Shinzo Abe assiduously. On Thursday, Modi tweeted a message of peace, prosperity and partnership -- in Japanese. (Abe, who counts Modi as one of only three people he follows on Twitter, responded in English.) Part of Modi's motivation is geopolitical: In Abe, he sees a fellow Asian nationalist, one bent on reviving his once-great country and countering the overwhelming influence of China in the region.