How Should Future Argentinas Treat Future Vultures?
Sovereign bankruptcy! CACs! CDS! Pari passu! Multiple Series Aggregation - Single Limb Voting! Happy Friday before Labor Day weekend.
by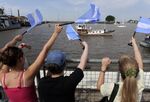 It's a slow Friday, so let's talk about some nerdy sovereign debt stuff. But first, I'll tell you a story you may have heard before. In 2001, Argentina defaulted on its bonds. In 2005 (and again in 2010), it gave its bondholders a choice: They could exchange their defaulted bonds for new bonds at around 30 cents on the dollar, or they could get nothing. It took a while, but eventually Argentina persuaded most of its bondholders that 30 is a bigger number than zero, so most of them took the deal. And off they went, relatively cheerfully receiving interest on their new, 70 percent smaller bonds.

Some holders were unpersuaded, though. (We call them the "holdouts," as opposed to the guys who took the deal, whom we call the "exchange bondholders.") They sued Argentina in a New York federal court, with a ... clever? ... theory. The defaulted bonds had a clause, called the pari passu clause, that said that the "payment obligations of the Republic under the Securities shall at all times rank at least equally with all its other present and future unsecured and unsubordinated External Indebtedness" of Argentina. The clever theory was that this meant what it said. It seems to say that Argentina can't pay interest on its new, smaller bonds without also paying interest (and back due interest, etc.) on the old, defaulted bonds that had never been exchanged.
This theory struck many people as crazy, but the holdouts managed to convince a New York district court, and then the Second Circuit, and then the U.S. Supreme Court, that it was right. And so now Argentina can't pay interest on the exchange bonds without paying lots of money to the holdout bondholders. And it would prefer not to do that -- or, quite plausibly, can't afford to do that. 1 So now no one is getting paid, Argentina is in default again, and everything is rather a mess.
So the people who thought the holdouts' pari passu theory was crazy seem to be right. The world seems to be unambiguously worse off than it would be if the U.S. courts had rejected the theory. Argentina is worse off (it's in a default crisis), the exchange bondholders are worse off (their interest payments have stopped), and the holdout bondholders are no better off, since it's not like they're getting paid anything either. 2

More generally, it's crazy because it makes sovereign debt restructuring impossible. If you know your choice is to take 30 cents on the dollar or to take zero, you'll probably take 30. But if you know that if everyone else takes 30, you can still sue for full repayment, then you'll have no incentive to negotiate. The courts' reading of the pari passu clause means that those holdout bonds can never be compromised; every single holder of those bonds can demand full payment. This is a problem that Argentina currently faces: Even if the holdout bondholders who sued Argentina do want to reach a settlement for less than 100 cents on the dollar, they have no way of binding other holdout bondholders.
So the holdouts' pari passu theory really doesn't have much going for it except that, you know, here's a bond contract, and it says some words, and you can go read those words, and they really do seem to support the theory. The judges' job is not to make things better; it's to read the words, and the words say what they say.
So probably the words should be changed. One way to change the words would be to modify the pari passu clause to not say that any more. But an even more sensible approach would be to write new words to the effect of: "Look, we might run out of money. If we do, we're going to ask you to accept less money. We'll have a vote, and if we get enough votes, you'll be stuck accepting less money, and you can't run to court saying that your bond is a special snowflake and should be paid back in full." This is called a "collective action clause."
Argentina's 2005 bonds did both -- changing the pari passu clause and inserting a collective action clause 3 -- and most sovereign bonds now have collective action clauses. But the latest news is that the International Capital Market Association, which sets standards for issuers and buyers and underwriters of sovereign debt securities, has issued new standards for both pari passu and collective action clauses. These are fun for nerds. You'd expect them to eventually filter into sovereign debt contracts, though they're not, like, magically binding immediately. New bonds will be issued with these terms, and eventually those bonds will default, and we'll see if they work. If Argentina re-defaults in 2085, there's a decent chance that this language will determine what happens, but obviously don't hold your breath until then.
Anyway. The pari passu one isn't that interesting except in a metaphysical sense. Here it is in its entirety:
The Notes are the direct, unconditional and unsecured obligations of the Issuer and rank and will rank pari passu, without preference among themselves, with all other unsecured External Indebtedness of the Issuer, from time to time outstanding, provided, however, that the Issuer shall have no obligation to effect equal or rateable payment(s) at any time with respect to any such other External Indebtedness and, in particular, shall have no obligation to pay other External Indebtedness at the same time or as a condition of paying sums due on the Notes and vice versa.
So:
these bonds will rank equally with all other bonds, but
you don't have to pay them equally.

Super!?
Like I said, the more sensible way of dealing with restructurings is not by monkeying with the meanings of words but by just laying out a mechanism for restructuring. And the ICMA does that with its collective action clause proposal, which is basically a privately organized bankruptcy mechanism for sovereign bonds. It's 16 pages long, which is considerably longer than the pari passu clause proposal, though on the other hand it's considerably shorter than the U.S. Bankruptcy Code.
The basic idea of a collective action clause is that if enough bondholders agree to a change in their bonds, then that change will be made, and it will bind the other bondholders. But this is not a simple idea! You have to figure out what "enough" means, and "bondholders," and maybe "a change."
The ICMA proposal starts by saying that, if an issuer wants to change one series of bonds, it needs the consent of holders of 75 percent of those bonds (or 50 percent for less important stuff). 4 Fine, easy enough. But most issuers have multiple series of bonds outstanding: They issue bonds at different times, in different currencies, with different coupons and different maturities. What do you do about that?
One approach would be to just say that each series needs to vote on its own modifications. This is straightforward, but it doesn't fix the holdout problem. Argentina has a series of Japanese yen bonds outstanding with a principal amount of about 20.8 billion yen, or about $200 million. A bondholder could buy up $50 million worth of bonds and block the restructuring of those bonds, even if 90 percent of the holders of the much larger issues agreed to the restructuring. And then go to court and demand full repayment, and we're back where we started, though perhaps with a better pari passu clause.
Another approach would be to just say that everyone votes together as one big group. But this can lead to unfairness. If you just need 75 percent of the total bonds, then it would make sense for the issuer to, for instance, give those yen bondholders zero cents on the dollar and spend the extra money paying off the holders of bigger series so it can get to 75 percent. Or there are even more nefarious options: Issue lots of new bonds to friendly holders, and then have them vote with you to stiff the other bondholders.
So ICMA offered two approaches. 5 One is euphoniously called "Multiple Series Aggregation -- Two Limb Voting," which requires the issuer to get approval from both 66.7 percent of all the bonds that it's modifying and 50 percent of each series of bonds. Since 50 percent is lower than 75 percent, this helps mitigate the holdout problem, though it does not eliminate it: Given a small enough series, a holdout can buy 51 percent of it and block the restructuring.
The other choice is "Multiple Series Aggregation -- Single Limb Voting." What this means is that the issuer can group bonds together into one pot, and then modify all the bonds in that pot as long as:
holders of 75 percent of the bonds in the pot consent, and
all the bonds in the pot are treated uniformly.
So if everyone gets treated uniformly, then they can all vote together, and no one can hold out for special treatment.
But the metaphysics go deeper: What does "treated uniformly" mean? Well, roughly:
The holders of all affected series of Debt Securities Capable of Aggregation are invited to exchange, convert, or substitute their debt securities, on the same terms, for (i) the same new instrument or other consideration or (ii) a new instrument, new instruments or other consideration from an identical menu of instruments or other consideration.
And "on the same terms" means basically that $X of subject securities converts into $Y of new instruments: If the exchange is for 30 cents on the dollar, then it needs to be for 30 cents on the dollar of every bond.
Which seems reasonable enough. It is not the only choice, though. Consider Argentina's current default. According to Bloomberg, Argentina's 8.28 percent U.S. dollar bonds due in 2033 are trading at a price of around 80.375 cents on the dollar, or a yield of about 11.3 percent. Argentina's 2.5 percent U.S. dollar bonds due 2038 are trading at a price of around 50 cents on the dollar, or a yield of around 8.6 percent. But wait, that's a trick! Argentina's bonds arguably have no yield: They're not currently paying interest. (Remember: court order.) And yet the bonds that are not paying a low coupon trade at a much lower dollar price than the bonds that are not paying a high coupon.
The explanation is presumably that, with some reasonably high probability, they will go back to paying those coupons, and then a high coupon will be worth more than a low one. Argentina's bonds don't trade like bonds that will all be thrown into a pot and paid off uniformly at 30 or 50 or 80 or whatever cents on the dollar. They trade like bonds that are momentarily having some difficulties, but will eventually go back to yielding 6 or 8 or 11 or whatever percent. If you gave all of them 60 cents on the dollar, the 2.5 percent holders will be thrilled, and the 8.28 percent holders will be miserable.
That's a pretty unusual case, but you could imagine other similar cases. A country might want to restructure its bonds by saying, "look, we'll pay you all back, but we want you to give up interest for the next two years so we can get organized." Or just: "For every $100 of bonds you have now, you can get $50 of new bonds, but otherwise with the same terms (interest, maturity, etc.)." Those proposals sound like "uniform treatment," in a naive reading of the words. But they're not "uniformly applicable," in ICMA's use of the words. Under this plan, "for every $100 of [1/2/5/30]-year bonds, you'll get $50 of the same bonds" does not work, but "for every $100 of [1/2/5/30]-year bonds, you'll get $50 of new 20-year bonds" does.
But you gotta pick something! In the abstract, you can say that a restructuring should treat all holders fairly, and that there are different ways of doing this: You could give everyone the same thing, or modify everyone's bonds in the same way, and either seems sort of fair. In a world with bankruptcy judges empowered to consider the equities of a situation and tell issuers what to do, that might work.
But that's not the world of sovereign default. ICMA's goal here has to be to write a contract that is unambiguous, and that courts in New York or London or Belgium or Buenos Aires will all interpret in the same way. Or, really, that courts will never interpret at all: The goal is to have a contract that operates automatically, so that the country and its bondholders can work out their restructuring without getting a court involved. 6 Not only because courts are unpredictable, but also because they tend not to have much luck in ordering countries around: Even the New York court that has caused Argentina so much trouble still hasn't been able to make it pay back its bondholders.
There's another, smaller advantage, too. 7 We've talked before about the weirdness of sovereign credit default swaps, whose value tends to turn on technical issues about what bonds you can find rather than actually hedging sovereign debt positions. The reason for this is that sovereign CDS is built by analogy to corporate CDS, and in corporate bankruptcies every bond ends up being worth the same: It's reduced to a claim in bankruptcy based on its principal amount, and its coupon and maturity no longer matter. In sovereign credit, that's not always true; it's certainly not true so far in Argentina's current default.
But if ICMA succeeds in making sovereign default more like corporate bankruptcy, then sovereign CDS will become more useful as a hedge to sovereign credit. Given the ICMA contract language, bonds of sovereigns that are near default will start trading like bankruptcy claims -- that is, high-coupon medium-term bonds and low-coupon long-term bonds will converge in price, because they're all likely to end up in the same pot and being worth the same amount. So CDS recoveries will more accurately reflect bond recoveries. That's a side issue, but a telling one: If you make the sovereign default process more sensible, then all of the strange things connected to that process will become a little more sensible, too.
To contact the author on this story:
Matthew S Levine at mlevine51@bloomberg.net
Before it's here, it's on the Bloomberg Terminal.
LEARN MORE