Germany to Europe: Help Isn't on the Way
The ECB looks increasingly like a video-game player who's been saving ammunition for the final levels, only to run out of lives instead. 
by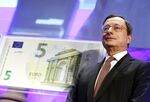 German Finance Minister Wolfgang Schaeuble has bad news for anyone hoping the European Central Bank will ride to the rescue of the ailing euro region:
Monetary policy has come to the end of its instruments. I don't think ECB monetary policy has the instruments to fight deflation, to be quite frank. What we urgently need is investments, regaining confidence by investors, by markets, by consumers.
His comments, in an interview with Bloomberg Television today, coincide with figures showingannual inflationslowed to 0.3 percent in the euro zone this month. That was the weakest rate of growth since October 2009 and marks 11 consecutive months of prices growing by less than 1 percent. The deflationary danger policy makers have been denying for months may be upon them.
This adds to the gloomy outlook in Europe. One-, two- and three-year yields are negative in Germany, meaning investors are paying for the privilege of the perceived safety of German debt. A critical money-market rate, the Effective Overnight Index Average -- Eonia for short -- dropped below zero for the first time yesterday, reaching -0.004 percent.
Analysts are attributing that event to a combination of expectations for even lower ECB interest rates, and the start of yet another program designed to pump money into the economy. Next month, the ECB will start offering targeted longer-term refinancing operations, or TLTROs. Analysts estimate that banks will borrow 300 billion euros ($395 billion) in the initial TLTRO round, according to the Bloomberg Monthly Survey published on Aug 18.
That's a far cry from the 850 billion euros ECB President Mario Draghi touted as a possibility earlier this month, though future operations may increase the take. "Any treasurer who doesn't make use of this offer is making a big mistake," ECB policy maker Ewald Nowotny said yesterday. Whether the money will then make its way into the economy and revive growth remains to be seen.
The cover of this week's Economist magazine features the leaders of Germany, France and Italy in a paper boat made from a folded euro, with Draghi at work bailing out water at the rear. The caption is "That sinking feeling (again)." While no-one is seriously discussing a break-up of the euro, Draghi's two-year old pledge to do "whatever it takes" to defend the common currency is being tested by the deteriorating economic backdrop.
Draghi is inching closer to quantitative easing. He departed from his scripted remarks at the gathering at Jackson Hole, Wyoming, last week to announce the imminent arrival of an asset-backed bond purchase program, and he said this week that the ECB has hired Blackrock Inc. to advise on the effort. It may be too little, too late.
This column does not necessarily reflect the opinion of Bloomberg View's editorial board or Bloomberg LP, its owners and investors.