The Hypocritical Attacks on Warren Buffett
There are valid criticisms of billionaire Warren Buffett, but the claim that he advocates for changes in tax law while trying to maximize gains for his shareholders is baseless. 
by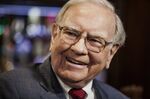 The jury is out as to how much of the Burger King-Tim Horton merger is driven by the desire for tax savings. So far, the range seems to be modestly to not very much. The Los Angeles Times noted "Burger King's overall effective tax rate in 2013 was 27.5%, according to its annual report. Tim Hortons' effective tax rate for the same year was 26.8%." That hardly seems motivation for a deal valued at almost $12 billion. More likely, creating a competitor to fast food's No. 1, McDonald's, was the driving force. The merger creates the world's third-largest fast-food company.