Romney? Again? Please Stop
Republicans really are considering Mitt Romney for 2016. Their reasons are dumb and dumber.
by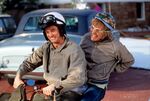 This week, Mitt Romney said there was a "one of a million" chance he'd run again for president in 2016. Political journalism being what it is, his comments were taken to mean that he was "opening the door" to another campaign.